Former Director of Arigatou International, Vice-CHAIR
Agneta Ucko was the Director of Arigatou International from 2003 to 2013, where she was responsible for the development of the ethics education programme – Learning to Live Together. For the period 2005 – 2007, Ms Ucko served as President of the NGO Group for the Convention on the Rights of the Child, currently known as Child Rights Connect.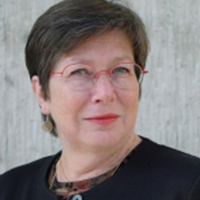 Previous to her engagement with Arigatou International, Ms Ucko was the Deputy General Secretary of the Lutheran World Federation; she also worked with the Swedish Red Cross in charge of developing a model to work with refugees and immigrants. Ms Ucko has a Masters in Theology from the University of Lund, Sweden, postgraduate diplomas in International Relations and Development Studies from the University of Uppsala, Sweden and in Psycho-social Dynamics and Organizational Development from St. Lukasstiftelsen, Stockholm, Sweden.
Agneta Ucko, born in Sweden, lives in France.