Director, Shanti Ashram, CHAIR
In the past 10 years, Vinu, as she is fondly called, has sought many creative ways in furthering the cause of children, through health care, education and poverty alleviation initiatives. Her professional training in child health has helped her conceptualize innovative programs for micro-level interventions and research inputs to macro level policies.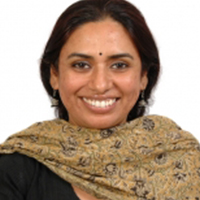 She serves as Assistant Professor at the PSG Institute of Medical Sciences and was nominated by the Government of India to the task force on Orphan & Vulnerable Children affected by HIV/AIDS. Some of the conceptual & programmatic work she is currently engaged in includes: Vulnerability Mapping of Rural children for Growth and Development, Child Friendly Village Initiative, Ethics Education and developing curriculum and learning opportunities for medical students in Child Health. She has many papers & publications to her credit. In Jan 2005 she conceptualized & edited the special issue of WCC's health journal 'CONTACT' on the theme ' Children : A shared agenda for Human development' .
Vinu's involvement with the World Conference on Religion and Peace started in1989 when she was elected to the International Youth committee of WCRP. She has since participated actively in the leadership & Children's programme of WCRP and now serves as Member of the Executive committee of WCRP/ International.
She had her early schooling in Kohima, Nagaland and Gandhigram, Tamil Nadu. She completed her medical training from the PSG Institute of Medical Sciences and Research and Post Graduate studies from the Harvard School of Public Health, USA. The Awards she has won include the Best Junior Medical Officer in 1998, Albert Schweitzer Award & Fanchin Award at the Harvard School of Public Health in 2000 and the Outstanding Young Indian Award in 2003.
Coming from a family of Gandhians, she particularly considers it a blessing to have had the chance to observe and work with her parents, Dr. M. Aram and Mrs.Minoti Aram . Widely traveled, she speaks 6 languages & Music, Reading , People, Travel & quiet time with the family, is how she chooses to relax.