The newly developed resource kit was used for the first time at the workshop in Sweden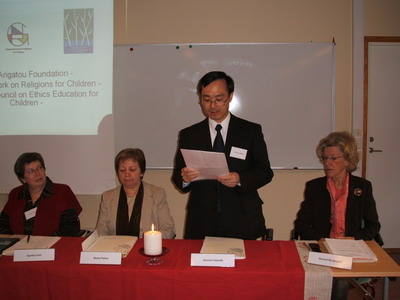 A workshop on ethics education for children
was arranged for the Nordic Region by GNRC Europe in collaboration with the Ecumenical Institute on 18th to 20th November at Utbildningscentrum
Lidingö
near
Stockholm
.
GNRC members and participants from the Nordic Countries and
Europe
were joined by the
GNRC Coordinators
from
Europe
,
Africa
,
Latin America
,
Arab States
,
Israel
, South and
Central Asia
. Around ten of the participants were young people from
Denmark
,
Sweden
and from the
UK
.
At the opening of the workshop, a
Statement by Rev. Takeyasu Miyamoto
, President of Arigatou Foundation and Leader of Myochikai, was delivered.
The draft resource kit was used as background material for the workshop. Under three themes of 'Respect', 'Reconciliation' and 'Empathy', the workshop offered vital spaces in which persons, including children and youth from different faiths came together to enhance their respective religious beliefs and practices through an experience of mutual learning. Three facilitators namely Maria Lucia Uribe, Kezevino Aram and Erling Ericsson took the workshop participants through the themes.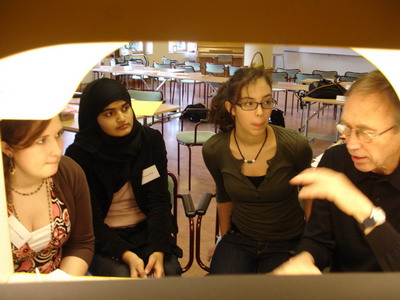 One of the groups worked with animation under the leadership of
Erling Ericsson
. The participants expressed satisfaction to work with different methodologies and especially the introduction and work with animations was a new experience for many.

GNRC Europe is the first of the GNRC regions working with the recently developed resource kit in which the global-scale ethics education for children is combined with a strong emphasis on interfaith learning and mutual understanding. The Interfaith Council on Ethics Education for Children is planning for the next round of trying the draft resource kit in December in
Bogota
,
Colombia
.

Rev. Takeyasu Miyamoto called on the international community to come together and address issues on ethics and children during his address to the United Nation's General Assembly Special Session on Children in May 2002. Rev. Miyamoto proposed the formation of the Interfaith Council on Ethics Education for Children with a vision of building a 'world in which all children are empowered to develop their spirituality – embracing ethical values, learning to live in solidarity with people of different religions and civilizations, and building faith in the divine presence'.