In the framework of the new Strengthening Family Systems initiative of Arigatou International, GNRC Ecuador has initated an ethics education program for parents of children who are part of the Learning to Live Together activities of the Benito Juárez school in Quito.
The family program has as main objective to familiarize parents wit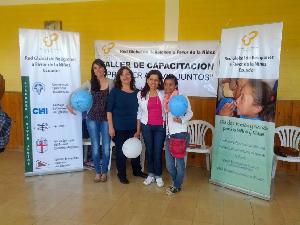 h the content of the Learning to Live Together in order for them to know what their children are learning during the workshops, and to provide them with new tools and skills in their role as parents. The main thematic areas that are included in the program are: building a safe home to grow based on mutual understanding and building a peaceful environment for children using non-violent alternatives to deal with problems.
The following is the outcome of the first meeting held with parents on 9 May 2014. A series of meetings will be held for a period of six months on monthly basis where parents will be able to share their parenting experiences, learn about themselves, reflect about their children, their families and build new skills.
The topic of the first meeting was to acknowledge one self in relation to the role as parents and as members of a family. 12 parents and three students were present in the meeting.
After getting to know each other parents participated more freely in the discussions. Three working groups were formed and in each group the participants shared their knowledge and experiences in relation to what they do or others do to ensure good parenting with their children and what do not work well. The groups engaged in meaningful dialogues sharing with one another their feelings, ideas, concerns, visions and dreams.
The group that worked on what they do or others do to ensure good parenting came up with the following areas:
– There is love at home
– Good communication
– Respect among members of the family
– Children know that they are accepted as they are
– There is empathy
– Parents give time to their children
– There is loyalty among members of the family
– There is forgiveness
– There is trust
Those working on what do not work well in parenting, identified the following topics:
– There is no communication
– There is disrespect betwen parents and children
– There is no care for their children
– Children receive material things but not love
– Parents do not give time and support
– Parents do not trust their children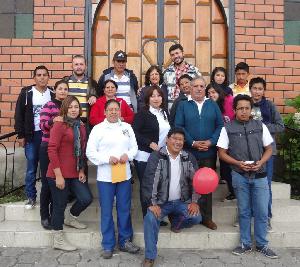 – Parents are too strict and there is no understanding
– Children are afraid of their parents
After this group activity, participants discussed in plenary the importance of observing, acknowledging and realizing their own behavioural patterns. Together they read the poem from the Learning to Live Together manual – "Children learn what they live", and each of them took a copy home to put it in a visible place.
Following this moment of reflection, participants worked on the repetitive and inherited patterns that influence their reference as parents; each participant realized what they do not want to repeat. By using a methaphor of the seed and looking at its potential for growing, each participant wrote a committment for personal change at the heart of their homes and how to keep that committment.
At the end of the session, participants reflected and asked God individually for support in their changing process. Those who wanted shared their change purpose. Some of the participants shared: "I want to listen more to my children"; "I want to stop being so strict and I want to dialogue more with my children"; "I want to be more patient"; "I want to give more quality time to my children".
Special thanks goes to Monica Bernal, GNRC Coordinator for the Ethics Education work with families, and Marco Laguatasi Correa, Coordinator of GNRC Ecuador, for their work and facilitation of this program.