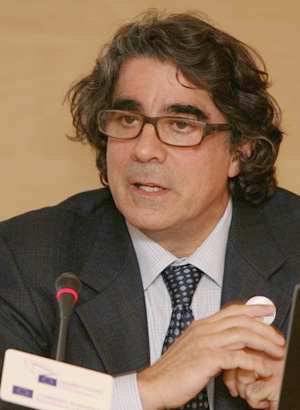 By Jordi Torrent
We only really hear about youth when the news media communicate to us about entertainment, sports, or crime. But we seldom facilitate venues and opportunities for youth to significantly express themselves in a way that their visions and voices are really heard, and taken into consideration, by the adults. Adults who are making the decisions about the world young people themselves are living in. Taking the key decisions that are shaping the world youth will, in a short period of time, be asked to manage.
If we take into consideration that about 20% of the current world population (about 2 billion individuals) is between 10 and 24 years of age, this lack of opportunities for youth to voice their opinions, their visions, is indeed a shortcoming of our societies that could develop (is, in fact, resulting) into violent forms of expression.
The question is no longer, if it ever was, "to what extent does the opportunity to produce media empower young people?" as some have asked. To ask this is as if asking, "to what extent does the opportunity to read and write empower young people?" Of course youth-produced media empowers youth. But it truly empowers them when produced within the framework of Media Literacy. Media Literacy is the ethical context, the critical thinking device, that when applied to young people producing their own media, it elevates their messages to relevant communication, to messages that adults should pay attention to. As we have said many times, too many already, the concept of "literacy" just needs to expand including these other forms of literacies that individuals need to be fluent on in order to be truly active members of contemporary societies.
Youth-produced media should not be considered a liminal activity but an integral part of education itself and, in fact, developed as part of the normal experience of being alive in our mediatized societies. But, again, Media Literacy should be the platform, the knowledge, the ethical framework, that facilitates –and encourages- the production of youth media.
These policies would certainly facilitate a process where youth feels included in the decision making activities of their communities; or, at least, feel included in the information package that feeds the arguments of policy making practices. Youth will then feel truly included in the societies they inhabit, becoming actual participants in the process of building a new world, a world marching towards the full implementation of the Global Sustainable Development Goals.
An example of these kinds of efforts being currently put in action is the PLURAL+ Youth Video Festival on Migration, Diversity and Social Inclusion (pluralplus.unaoc.org). Developed by the United National Alliance of Civilizations (UNAOC) and the International Organization for Migration (IOM), PLURAL+ is a multi-media platform of distribution that – with the supports of its partners – promotes the global outreach and distribution of youth-produced media expressing their opinions on migration and social inclusion. Empowering young people through the distribution of their media messages is a strong signal that points to the fact that we adults take social inclusion (of all members of our communities, young and old alike) seriously.