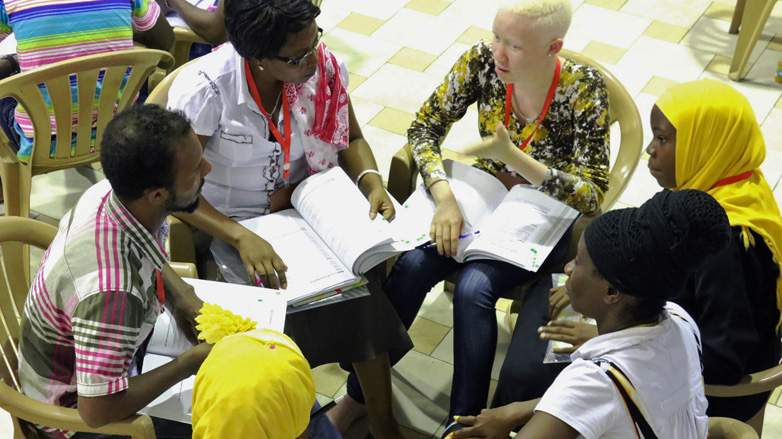 The GNRC Peace Clubs are a revolutionary initiative that brings together children and youth from different cultural and religious backgrounds to enable mutual understanding and build a culture of peace in Tanzania. To date, 118 Peace Clubs have been established in the country, carrying out different activities like ethics education programs, music and arts projects, weekly forums, discussions between clubs and celebrations of relevant international days.
In order to strengthen the engagement and empowerment of children through the GNRC Peace Clubs, youth leaders participated in a four-day Training Workshop to become facilitators of the Learning to Live Together programme.
The workshop was held from 16 to 19 June, in Dar es Salaam, and was organized by Arigatou International Geneva, in collaboration with GNRC Tanzania.
Most of the participants were former GNRC Peace Club members currently volunteering or interested in volunteering to support the Peace Clubs. These included five participants from Zanzibar, two participants who have been actively engaged in previous workshops and four teachers involved in supporting Peace Clubs at schools. The main aim of the workshop was to train these young leaders to facilitate LTLT activities for children and youth from the GNRC Peace Clubs.
During the workshop, the facilitators created spaces for participants to explore, discuss, and reflect about the issues affecting children in the family, school and community, and as individuals, while introducing the key concepts, learning modules, methodologies, learning process and educational approach of the LTLT programme.
The participants also had the opportunity to put into practice their facilitation skills by leading the group in different LTLT activities and receiving on-the-spot feedback from the trainers and other participants regarding the creation of a safe learning environment, the use of the learning process and the facilitation of critical thinking during the session.
This workshop also served as a platform to discuss and strategize on the next steps towards implementing the LTLT programme within the Peace Clubs. It is expected that participants will systematically implement a series of activities in selected peace clubs with the aim to empower their members. A community of practice will also be initiated in August for participants to share periodically their progress, challenges and support each other. An Advanced Workshop for the facilitators is expected to be organized at the end of the year. The GNRC TAnzania office and Arigatou International will provide support to the youth-led initiatives that will be developed as a result of the learning gained by the participants.
Special thanks to GNRC Tanzania for their collaborative efforts to organize the workshop; Mr. Charles Mwaniki, Ms. Pauline Haiba Mandisa and Mr. Suchith Abeyewickreme for facilitating the workshop, and the participants for their enthusiasm and active participation.
.