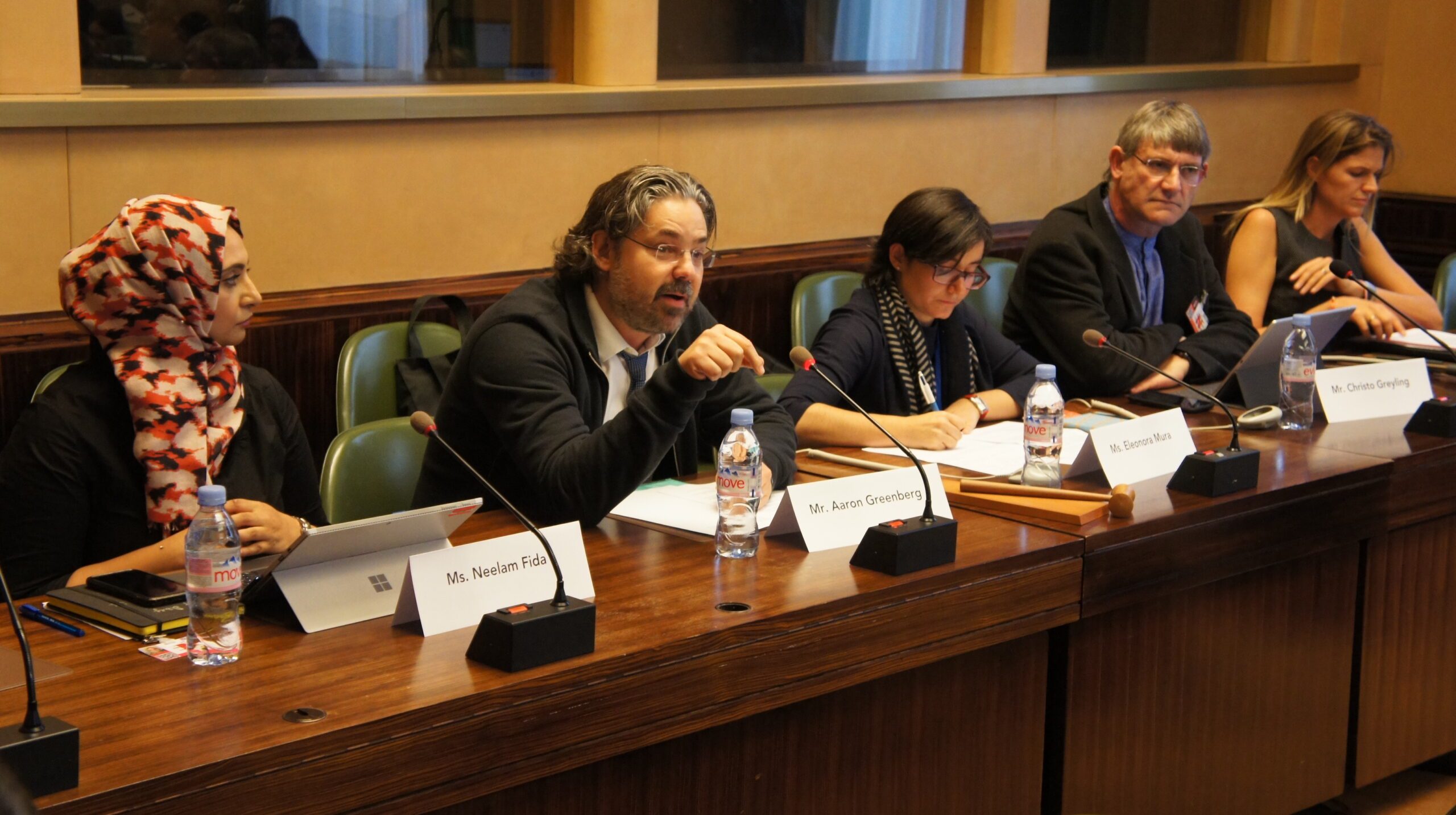 Arigatou International – Geneva, in collaboration with its partners, the Global Partnership to End Violence Against Children, Islamic Relief Worldwide, UNICEF, World Vision International, and, facilitated a panel discussion which marked the final event of Geneva Peace Week.
This year, Geneva Peace Week explored the topic of ''Building Peace in a Turbulent World''.
The panel discussion took place on 9 November 2018, with the theme of 'Contributing to Peaceful and Inclusive Societies: Working Together to End Violence in Early Childhood'. The event was attended by nearly 50 individuals and explored the multiple relations between Early Childhood Development and Peacebuilding.
The panelists provided facts from evidence-based research, emphasizing the importance of fostering a culture of peace and nurturing values from early childhood:
'The impact of both physical and physiological violence on brain development is irreversible. Interaction with children is fundamental for their brain development and for how their brains grow physically.' said Mr. Aaron Greenberg from UNICEF.
Mr. Aaron Greenberg also reported that three in four children aged two to four years experience some form of violent discipline, including psychological aggression and neglect. The panelists then presented evidence that brain formation, learning, and the ways of understanding relationships are shaped in the first years of childhood, and that violence will affect how children learn and form relationships in later life.
The second part of the discussion highlighted the important role of religious leaders in challenging the social and cultural norms that may contribute to violence in early childhood: 'If religion is part of the problem, then per definition, religion should also be part of the solution', stressed Mr. Christo Greyling from World Vision International. Expanding on this idea, Ms. Sabine Rakotomalala, from the Global Partnership to End Violence Against Children, stated that religious leaders play a key role in communication: 'Faith-based groups have a platform they can use to tell people that violence against children is unacceptable. They can help us send this message.'
In turn, Ms. Neelam Fida, Islamic Relief Worldwide, spoke about the challenges of implementing laws because of social and cultural practicalities and the mechanisms of poverty. She provided concrete examples of religious leaders influencing legal frameworks, but also pointed to the challenges that such leaders face that may make it difficult to influence decision-makers, despite their desire to have meaningful engagement with their communities.
Moderator Ms. Eleonora Mura, Arigatou International – Geneva, brought the discussion to a close on a positive note, acknowledging that collaboration is important, and that ending violence in early childhood must be a holistic approach directly involving the family, communities, faith-based NGOs, the government, and many more. The Consortium created between Arigatou International and its partners in July will play a role in creating awareness and developing an evidence-based knowledge hub. You can read more about the Consortium here.
We thank the organizers of Geneva Peace Week for facilitating these discussions, and extend a special gratitude to the panelists for their insightful contributions, as well as those who attended the event for their interest.
The recording of this event can be viewed here.