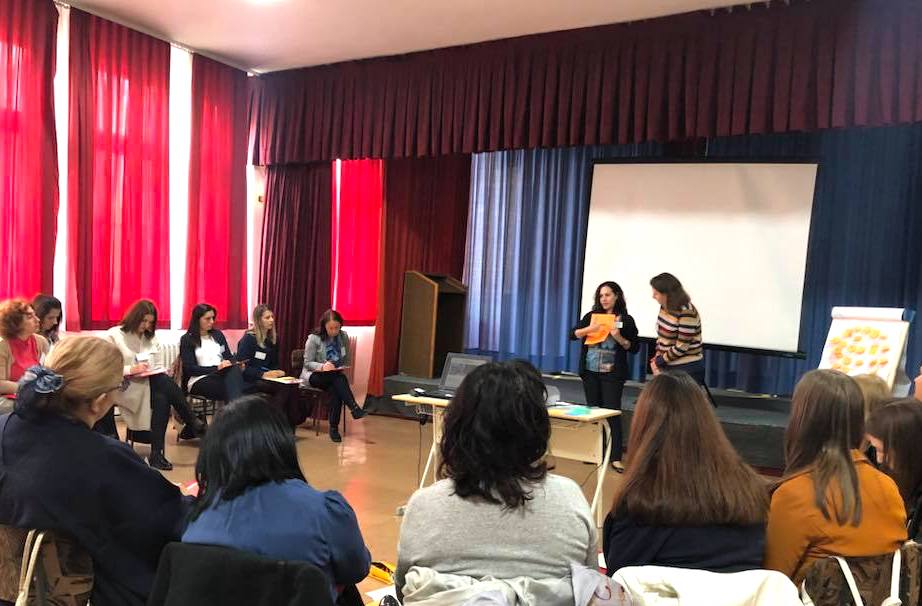 The Global Network of Religions for Children (GNRC) Bosnia Herzegovina, in collaboration with Arigatou International – Geneva, organized a Facilitator Training Workshop on the Learning to Live Together Programme, which took place on 27 to 30 September 2018 and brought together 22 educators from primary and secondary schools, religious communities, and other organizations.
The workshop facilitated a safe space to explore and reflect on issues affecting children in the family, school, community, and as individuals while being introduced to the key concepts, learning modules, methodologies, learning process, and educational approach of the Learning to Live Together (LTLT) Programme.
During the workshop, the participants identified violence as the most pressing issue affecting children in Bosnia and Herzegovina. Educators mentioned bullying, peer-to-peer pressure, violence in the family as a child-rearing practice, and growing in a post-conflict society influencing how children interact with each other, as some of the main challenges faced by society. The root causes and possible ways of addressing them were discussed, along with an exploration of how ethics education can contribute to protecting children from violence.
Despite the Bosnian War having ended some 23 years ago, the country still faces several social problems resulting from the conflict and the country's complex history in the Balkan region. This was illustrated by nationwide protests in 2014, where citizens expressed anger and frustration over high unemployment rates and political inertia, among other factors. Such problems persist today: according to the International Labour Organization, youth unemployment was the second highest in the world in 2017, at 54.9%. It is in this context that the workshop aimed to equip educators to help children to cope with the current issues faced by their society.
During the workshop, participants learned how to plan an ethics education program for children and young people based on the Learning to Live Together approach, tailored to their own context and organization; identified practical processes and methodologies that can be used in the delivery of ethics education sessions; and were introduced to concrete ways to monitor the implementation of the Programme in their schools.
Participants provided positive feedback on the workshop:
"All sessions were very interesting, I had a lot of fun and what is most important I will be able to use it in my everyday work. I'm so inspired by this workshop that I can't wait to start using some of this with my students tomorrow on our class."

"The workshop was very dynamic, nicely organized, very engaging and I had a lot of fun. Also, I learned so many new things and I can't wait to start using the LTLT approach in my work."
An action plan and follow up-process was developed as the outcome of the workshop, which will be supported by Ms. Ismeta Begic, GNRC Coordinator for Bosnia and Herzegovina, with the technical support of Arigatou International – Geneva. Facilitators will continue to meet regularly throughout the year to share their experiences and learn from each other.
We thank the educators involved in this workshop for their contributions and ideas, as well as the facilitators of the workshop for their hard work and commitment.