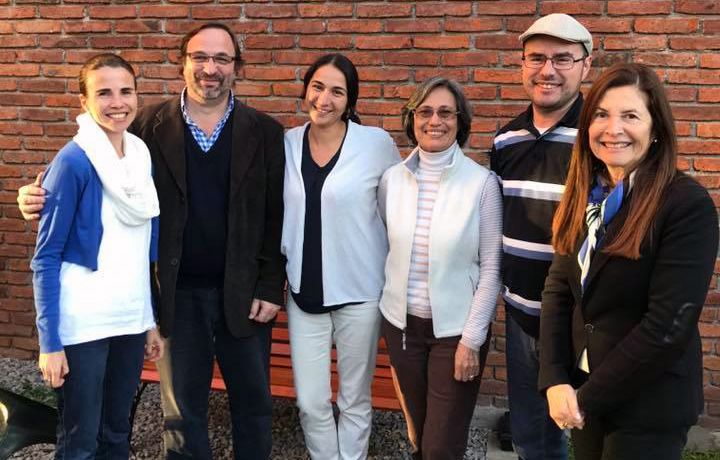 Ethics Education for Children was introduced for the first time in Uruguay through a Facilitator Training Workshop on the Learning to Live Together Programme which was held in Montevideo from 26 to 29 September. Participants came from 13 different religious communities, including Bahá'í, Christian, and Jewish, as well as from NGOs working with children and youth in Uruguay, Argentina, and Paraguay.
During the workshop, which was organized by Arigatou International Geneva and the Global Network of Religions for Children (GNRC), participants got familiar with the main concepts of Learning to Live Together, its methodology, and the Ethics Education Framework. They engaged in discussions about violence against children, ethical challenges children face, and the role of ethics education to nurture values and spirituality. Participants were surprised to discover that, even though they came from different countries, realities, and socio-economic situations, they all identified similar challenges and issues affecting the children and the community they work with. They also learned to design and customize programs to their own realities and had the chance to practice their newly acquire facilitation skills with each other.
A community of practice was created for them to share experiences, support each other, and further develop strategies to address issues affecting children and youth. The workshop was preceded by an Interreligious Dialogue on Violence against Children that was organized by the Prayer and Action for Children Office of Arigatou International. The event held at the Inter American Institute of the Child aimed to reflect on the state of violence against Children in Uruguay, provide information about child protection systems in place in the country; share faith-based and government initiatives to protect children and prevent violence, as well as the role of religious communities, the importance of nurturing values and spirituality in children and to help building resilience.
At the end of the dialogue and workshop, some of the organizations that participated committed to initiate a chapter of the GNRC in Uruguay to address violence against children from an interfaith perspective. The representatives from Paraguay also showed interest to form a local GNRC group. It is expected that the GNRC groups will provide the space for a more systematic and collaborative implementation of the Learning to Live Together Programme and can provide a unique space for collaboration between faith-based, religious and secular organizations to work towards the prevention of violence against children, enhance children´s participation, as well as to address the root causes of discrimination and exclusion that affect children.
We would like to express our gratitude to Gurises Unidos and UNIDOS for their unwavering support, and to all the partaking institutions for their commitment to foster the implementation of the program in their own programs. We also thank all the participants for their enthusiasm and dedication.