The third GNRC Africa Peace Camp was held inZanzibarfrom 4thto 7thJuly 2007 on the occasion of the 10thZanzibar International Film Festival (ZIFF). Over 70 participants, including 60 children and young people participated in the four days Peace Camp, which attracted participants from outsideTanzaniafor the first time since its inception.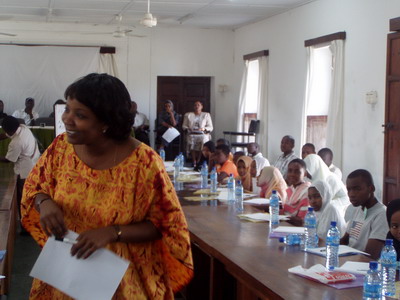 2007 Peace Camp was a landmark event in which facilitators from Norway, Sweden and Kenya joined the Peace Ambassadors to mount one of the best attended Peace Camp in the history of GNRC Africa Peace Camps.
The theme for the 2007 Peace Camp was "dreaming the future, changing the present: young people working for a just and peaceful Africa."
The Executive Director of ZIFF Dr. Martin Mhando officiated in the opening ceremony.
In his opening remarks, he noted that religious institutions had a major part to play in ensuring that the young people were cared for, nurtured and raised in healthy and peaceful societies.
Dr. Mhando underlined that 'belief in peace' was crucial to bring about peace. He thanked the Global Network of Religions for Children, and the Interfaith Council on Ethics Education for Children for organizing such events, and focussing on the children and young persons.

On the first day of the Peace Camp, Florence Mpaayei from the Nairobi Peace Initiative (NPI-Africa) introduced the 'Peace Ambassadors' to economic-based injustices that caused conflicts.
The Haki Kazi Catalysts from Arusha, Tanzania introduced the children and young people on the issues of Governance and Democracy as key in ensuring justice prevailed, and peace assured in the future of Africa.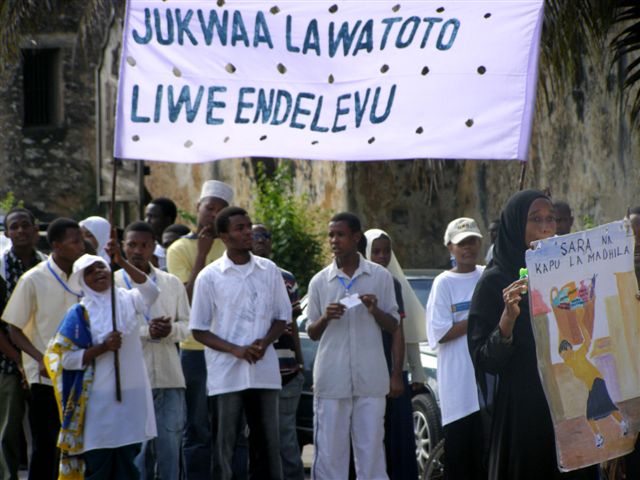 The Change-Makers facilitator from Norway, Jens Aas Hansen introduced the young Peace Ambassadors to critical skills that could be used in initiating meaningful changes, and how to engage with opinion leaders and government.
The climax of the Peace Camp as has been the tradition, was the Peace March from the venue of the Peace Camp to the main amphitheatre.
The Peace Ambassadors were received by the senior officials from the Zanzibar International Film Festival and from the Government.
The Peace March, the largest in the history of ZIFF, was concluded with award of certificates and prizes.
The best performing participants from Unguja, Pemba and Dar es Salaam were elected by the participants, and awarded at the closing ceremony.
The best disciplined Peace Ambassadors from the three areas were also awarded, and the overall best and consistent child participant since the start of Children's Panorama in 2000 received an all time best participant award.
GNRC Africa will hold its next Peace Camp in July 2008 at the same venue, during the same occasion. Next year's Peace Camp will be expanded to include participants from Sudan, Kenya and Somalia to join Tanzanians.