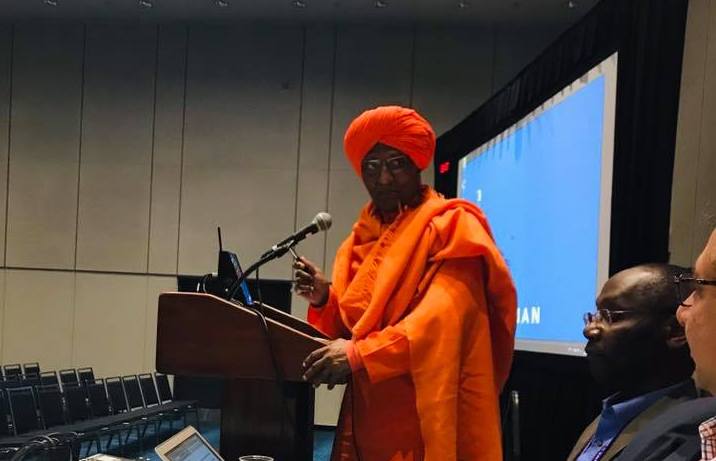 Arigatou International, in partnership with UNICEF, organized a panel discussion on Ending Violence in Early Childhood – Working Together with Religious Communities, on 6 November 2018 in Toronto, Canada, in the framework of the Parliament of World Religions.
The discussion was centered on the fact that early childhood is a critical developmental stage when children learn the foundations of respect, empathy, solidarity, and to trust one another. The creation of safe environments during the early years can, therefore, help nurture the brain and allow children to learn about life and relate with others.
"It is during the early years that the child's brain architecture is developing most rapidly, habits are formed, differences are recognized and emotional ties are built through positive social relationships and day to day interactions in homes and neighborhoods" – UNICEF
The panelists shared knowledge on the nature of violence in early childhood, discussed the different types of violence involved, reflected on the role of religious communities in challenging social and cultural norms that condone violence against children, and discussed the role of education and religious education to foster empathy for the other. Finally, the panel identified opportunities for collaboration among participants and discussed need to develop inter-sectoral approaches to early childhood development, where spirituality is integrated.
The panel was moderated by Ms. Maria Lucia Uribe, Director of Arigatou International – Geneva. Speakers included Swami Agnivesh, Activist and Leader of Arya Samaj; Dr. Ilham Nasser-Expert on Early Childhood and Member of the Consortium on Nurturing Spirituality in Early Childhood for the Prevention of Violence; Dr. Mohammed Abu-Nimer- Advisor to KAIICID; Ms. Antonia Antonopoulos -Head of Civil Society Partnerships at UNICEF; Rev. Fred Nyabera- Director of Ending Child Poverty Initiative – Arigatou International.
The after the crux of the discussion, the speakers addressed questions such as 'How can spirituality be integrated better in early childhood approaches and interventions? What gaps and opportunities exist to mobilize religious communities to help ending violence in early childhood?' The answers provided by the panelists formed the closing remarks of the discussion, and aided participants to reflect on lessons learned.
We thank all the speakers for their contributions to the discussion, as well as those who organized and attended the event. In particular, we thank the Parliament of World Religions for hosting the event.
This panel is part of the advocacy efforts of the Consortium on Nurturing Spirituality in Early Childhood for the Prevention of Violence that was launched by Arigatou International in July 2018. This international consortium brings together faith-based organizations, civil society organizations, multilaterals, and academia. To read more about the Consortium please click here.