Arigatou International participated in the 3rd Annual mEducation Alliance International Symposium: Commit Fair for Project Scaling that took place on October 15-16, 2013 in Washington, DC at the premises of the Organization of American States. Arigatou International presented an initiative to develop the Learning to Live Together Program into a digital game for children.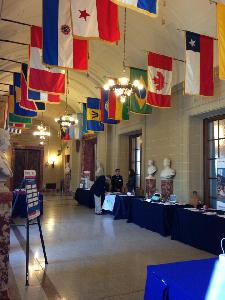 The
Symposium
brought together leading donors, private sector representatives, NGOs, researchers, project innovators, and other key policymakers engaged in the field of mobile technologies and education to leverage current commitments to improve and scale carefully chosen projects from the field. The overall goal of the
mEducation Commit Fair
was for participants to meet potential collaborators and partners with whom they could significantly strengthen and scale promising mEducation opportunities, projects, and initiatives. Participants benefited from a unique environment to engage with their counterparts, mEducation Alliance members, leading technical experts and thought leaders, among other participants. The Symposium was organized by the MEducation Alliance in collaboration with USAID.
Arigatou International is currently conceptualizing a digital game called Kokoro based on its widely recognized and implemented manual called Learning to Live Together – An Intercultural and Interfaith Programme for Ethics Education. Kokoro is an interactive game where children aged 12-16 can learn to make ethical decisions, discover places and people of different cultures and religions, reflect on their attitudes and behaviours towards others, an learn to work collaboratively to transform the world.
The interest of Arigatou lies on the everyday growing interest in and contact of children and young people with Information and Communication Technology (ICT), and the potential of mobile technology to provide learning environments and programs to develop global citizenship competencies, such as intercultural and interfaith collaboration, cooperation and communication, creativity, problem solving, empathy and solidarity. Digital games can allow children to take control of their own learning while having fun, interact with others and transcend language, geographical and cultural barriers. Arigatou International has worked with children and youth around the world through the Learning to Live Together Program and is interested to connect those and many more children and youth virtually to continue their journey to help transforming the world.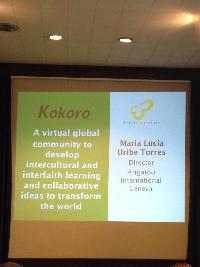 Kokoro was presented during the Meducation Alliance Symposium to a group of technical experts, private sector representaitves and educational experts, with the purpose of receiving technical advice on the type of technologies needed to develop it and exploring possibilities for collaboration with organizations. The idea of Kokoro was very well received by experts who not only welcomed its development but also recommended to develop it in several platforms to ensure that it reaches a broader type of groups in different parts of the world. Recommendations were given to partner with other organizations already providing mobile education in developing countries with the aim to enhance the quality of education. Arigatou International is currently following up on the discussions held with several organizations during the symposium to explore concrete collaborations to bring this initiative into development.
Arigatou International welcomes collaboration and partnerships with organizations interested to support the development of Kokoro. If you are interested, please contact mail@arigatouinternational.org
To download the presentation of Kokoro presented in the Symposium, please click here