"Everyone needs to be educated ‒ the leaders, the public, the children, the youth, the elite and the masses. Formal education as well as non-formal education has a great role to play in bringing about peace and disarmament in the present-day world. We are all members of one human family. United we stand and divided we fall."

Dr. M. Aram,

Founder President, Shanti Ashram
With Dr. Aram's words as a reference line for the discussions, the series of webinars titled "Leaders Dialogue – Active Peace Building for Community Cohesion in the Midst of COVID-19" kicked off on Tuesday, 22 July 2020. The Leaders Dialogue aimed at listening to one another and sharing notes from leadership experiences, guided by the premise that leaders multiply leaders. In unprecedented times like the COVID 19 Pandemic or in everyday encounters, such dialogue creates an environment of reflection, mutual learning and recommitment to action, active peacebuilding, and community cohesion.
The Leaders Dialogue is being organized by Shanti Ashram, Coimbatore, together with the Global Network of Religions for Children (GNRC), Gandhi Smriti and Darshan Samiti, the International Center for Child and Public Health, and the Mahatma Gandhi Institute.
The Director of Arigatou International Geneva, Ms. Maria Lucia Uribe, was invited to take part in the inaugural panel of speakers, sharing about active peacebuilding and education to promote community cohesion. She talked about the different types of violence that affect our society, and the way we can work together to achieve peace. She shared how we can help create a new normal through our Moral Imagination, which is our capacity to do something new, to transform our realities through action led by our care for others. She explained how children have the capacity to bring about positive transformation into our society. This requires that we nurture empathy and critical consciousness in children and that we guide them in building positive relationships.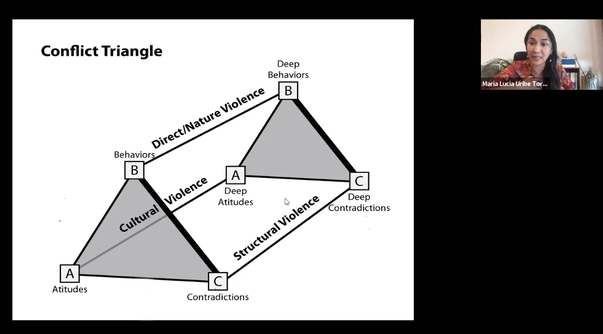 Ms. Pavithra Rajagopalan, Auxiliary Trainer from the Association Montessori Internationale, and Learning to Live Together Trainer, also participated in the encounter. The guest panelist also included Shri. Dipanker Shri Gyan, Director, Gandhi Smriti and Darshan Samiti; Ms. Karuna Sagari, Director, Bhakti Natya Niketan; Dr. Suriakanthi, Trustee, Shanti Ashram & Former Professor, Gandhigram Rural University, and Dr. Priya. M. Vaidya, Assistant Professor, Department of Philosophy, University of Mumbai.
We thank the organizers for leading this dialogue, and for inviting us to be part of this effort to lift and strengthen positive leaders for peacebuilding. We also thank the distinguished panel of discussants and the attendants for their participation and valuable reflections.