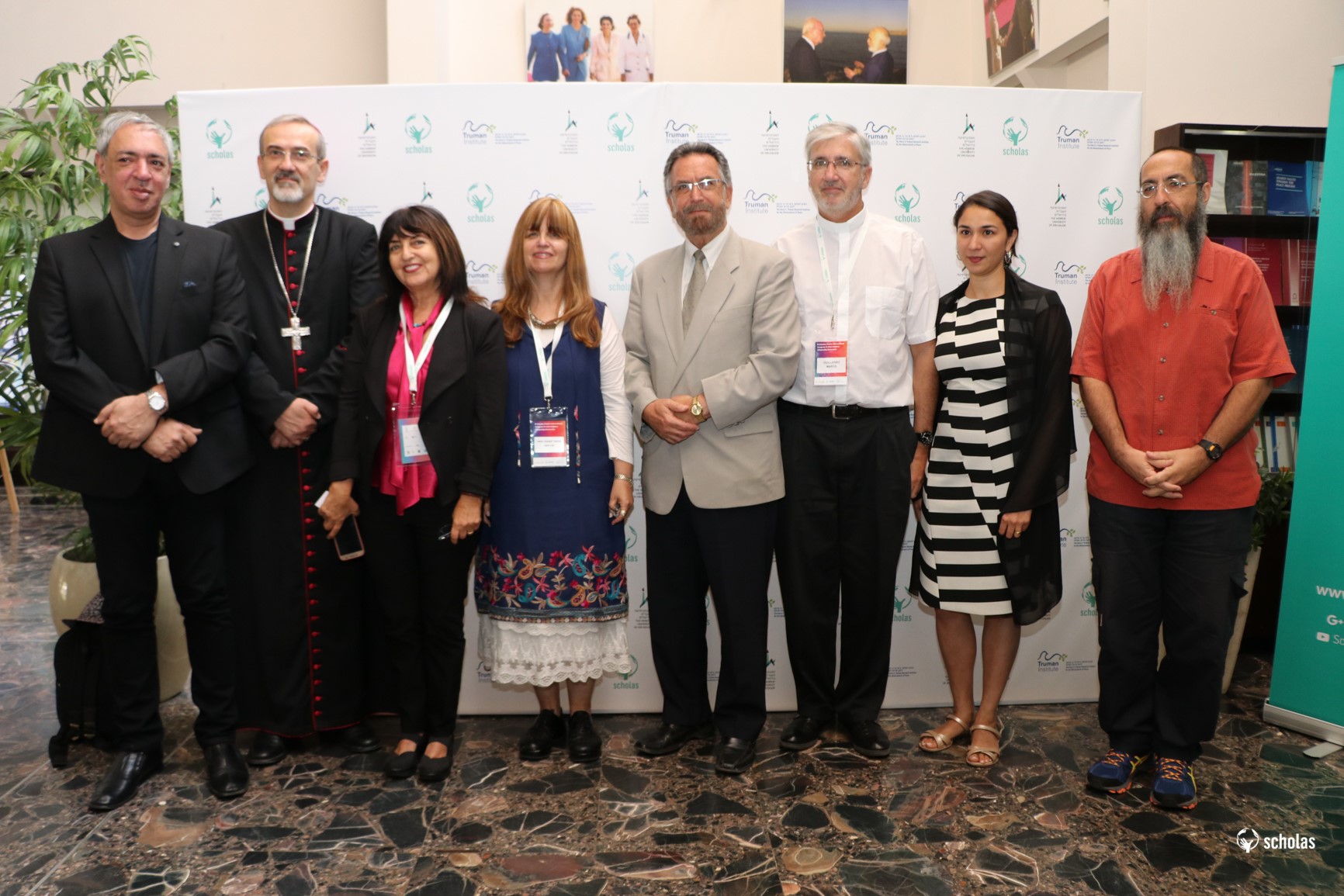 Arigatou International was invited to the III Scholas Chairs International Congress which took place in Jerusalem, Israel from 2 to 5 July 2017, bringing together academics from the Scholas Chairs program, diplomats, religious authorities and governments to promote cooperation and learning based on the idea of education as one of the main tools for social change. In addition, 50 youth from five continents representing the Jewish, Christian and Muslim faiths, joined the academics in the debates as a way to emphasize their key role in the renewal of education.
Organized by Scholas Occurrentes, the Hebrew University of Jerusalem and the Harry S. Truman Research Institute for the Advancement of Peace, and under the theme: Between University and School. Peacebuilding through Culture of Encounter, the Congress aimed to generate concrete cooperation on experiences and case studies that will serve as models to apply in different contexts.
Arigatou International was represented by Mrs. Maria Lucia Uribe, Director of Arigatou International Geneva, who participated as panellist in the round table: Local Peacebuilding Experiences Through Interreligious and Intercultural Dialogue, together with Mrs. Zehavit Gross, UNESCO Chair in Education for Human Values, Tolerance, Democracy and Peace, Bar Ilan University (Israel); Mr. Omar Abboud, Rabbi Daniel Goldman, Fr. Guillermo Marcó Instituto de Diálogo Interreligioso de Buenos Aires (Argentina); Rabbi David Rosen, International Director of Interreligious Affairs at the American Jewish Committee (Israel); and Most Rev. Pierbattista Pizzaballa, OFM, Apostolic Administrator of the Latin Patriarchate of Jerusalem. The panel was chaired by Mrs. Yudit Kornberg Greenberg, Director Jewish Studies Program at Rollins College (USA).
During her intervention, Mrs. Uribe stressed the need for today's educational systems and programs to be reimagined and reinvented to respond to the multiple ethical challenges of societies, but also to the globalized nature of our daily interactions and lives. Education programs must understand themselves as part of a community and as a key actor in fostering social cohesion and building peace.
She also shared good practices of interreligious dialogue and collaboration, highlighting the use of Learning to Live Together in Israel to develop Massa-Massar: A Journey of Discovery. This regional initiative designed, planned, and implemented jointly by the Pluralistic Spiritual Centre of Neve Shalom / Wahat al-Salam and the Open House in Ramle, with the support of Arigatou International and GNRC Israel gathered a group of young Jewish, Christian, and Muslim Israelis aged 15 to 17 on a literal journey to discover both, their own national, religious and spiritual identity, and the identity of other groups sharing their land.
We thank the World President of the Pontifical Scholas Occurrentes, José María del Corral, and the
President of the Hebrew University of Jerusalem, Prof. Menahen Ben-Sasson, for extending this invitation.