A total of twenty-seven participants from 18 countries were successfully trained during the Second International Train the Trainers workshop organized by Arigatou International Geneva from 9 to 13 April 2017.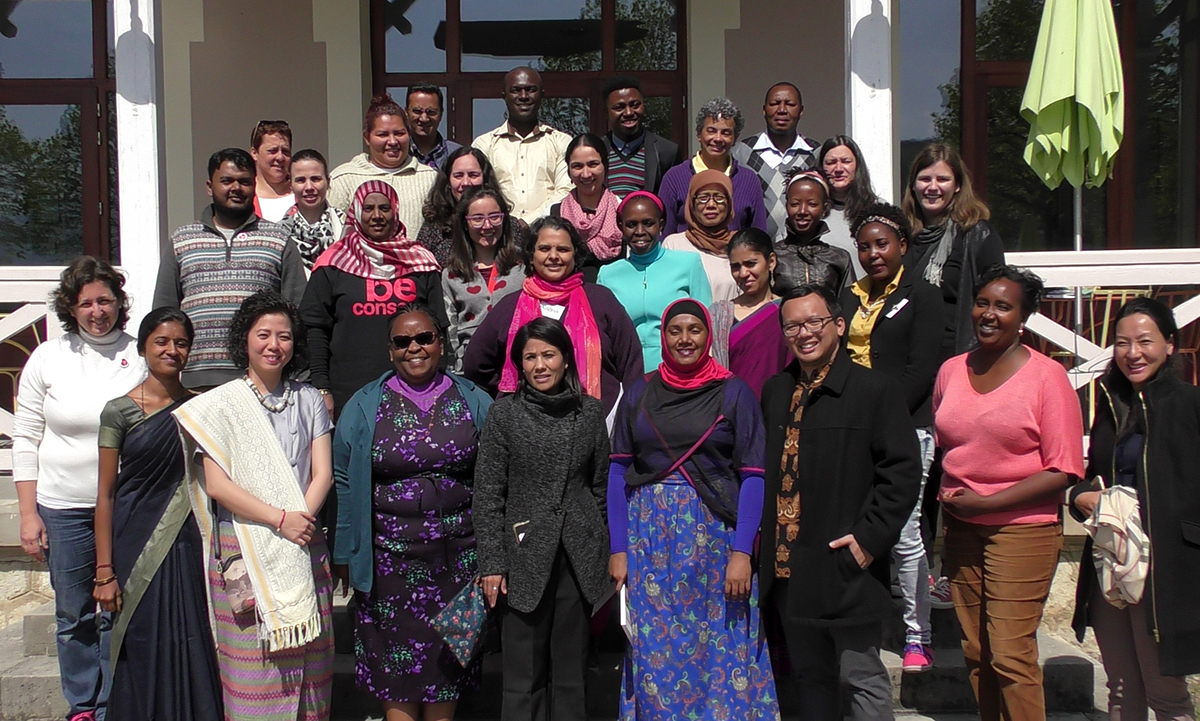 The workshop took place in Menthon-Saint-Bernard, a small village in France, and it was intended for people previously trained on the use of the Learning to Live Together Programme (LTLT) who had institutional support, experience implementing the programme, and who have participated in advanced training courses in the past.
During the five days of training participants learned how to organise, conduct, monitor and evaluate quality workshops on the use of the LTLT programme. They shared their own experiences implementing the programme in their communities and reflected about the key conceptual areas and how to apply them in their interactions with different people and in different contexts.
Participants discussed the Ethics Education Framework, as well as how to use techniques to facilitate dialogues and educational practices that foster interfaith and intercultural learning. In the process, they learned how to introduce monitoring and evaluation tools during Facilitators Training workshops.
The workshop also provided spaces for participants to analyse the profile of an LTLT Trainer, to strengthen and develop training skills such as body language, listening, paraphrasing as well as to foster critical dialogue, ethical reflections, resilience and self-care.
"Now I know how to design a program but also, as a trainer, how to facilitate (…). These five days have been like a whole month of learning", expressed Mrs. Hom-Nang Loung a participant coming from Burma.
The international Train the Trainers workshop was designed and facilitated by a group of international trainers with experience in ethics education, interfaith dialogue, reconciliation, social healing and children's rights, namely: Dr. Ilham Nasser, Mr. Suchith Abeyewickreme, Mrs. Vera Leal and Mrs. María Lucía Uribe, from Arigatou International Geneva.
In addition to the training sessions, Rev. Dr. Simone Sinn, Pastor and Study Secretary for Public Theology and Interreligious Relations at the Lutheran World Federation in Switzerland, facilitated a special session on Interfaith Dialogue, with the participation of two religious leaders from the Geneva Interfaith Platform: Mr. Hafid Ouardiri, Imam and Director of the Inter-knowing Foundation in Switzerland and Mr. Vincent Villein, Zen Buddhist master, Lead Ryukai Zen Dojo of Geneva, Switzerland.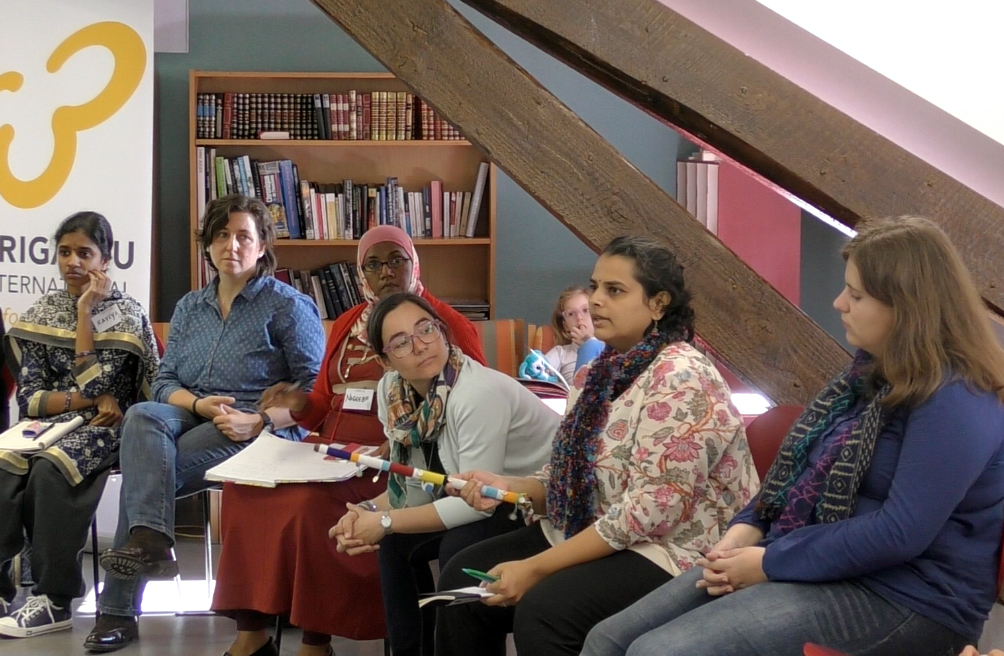 As the customization of a training program is essential to respond to context and participants learning needs, throughout the workshop participants explored the emerging issues that are important in the contexts they come from and identified the considerations that need to be made when designing and delivering training workshops.
With the support of the invited expert, Mrs. Celina Del Felice, Peace Educator and Researcher on Monitoring and Evaluation, participants were introduced to key concepts on Monitoring and Evaluation. They explored its approach in the training and implementation area and studied concrete tools and ways run effective Monitoring and Evaluation processes.
As a way to prepare participants to design and facilitate customised training programs and sessions, space was created to go through the training cycle, prepare a needs assessment of a training program, design a session and facilitate it. This was an opportunity to put into practice the learning acquired and to design action plans that will now be followed up by Arigatou International Geneva.
"Now that I've become a trainer I feel that this allows me to bring more facilitators to work with me and to reach many more children and adults", said Miss Kaviya Balaguruswamy, from India. At her 23 years, she is one of the youngest participants of the workshop. "I will give my full effort as a trainer from now on", expressed Miss Balaguruswamy who has been involved with the LTLT programme from the age of 18.
After this process, participants identified ways to continue supporting each other and growing together. A trainers' online community of Practice will now be the main avenue supporting the follow-up of the workshop, and to continue strengthening training areas that are relevant for the trainers of the Learning to Live Together Programme.
We congratulate all the 27 participants for their dedication during these five days of intensive work and for their commitment to spread the values of ethics education and interfaith learning. Special thanks to the trainers, and particularly to Dr. Ilham Nasser, member of the Interfaith Council on Ethics Education for Children, and guest facilitators: Dr. Rev. Sinn, Mr. Ouardiri, Mr. Villein and Dr. Del Felice for adding their valuable contributions to the training process. More on the outcomes of this enriching workshop will be shared in our next Newsletter.