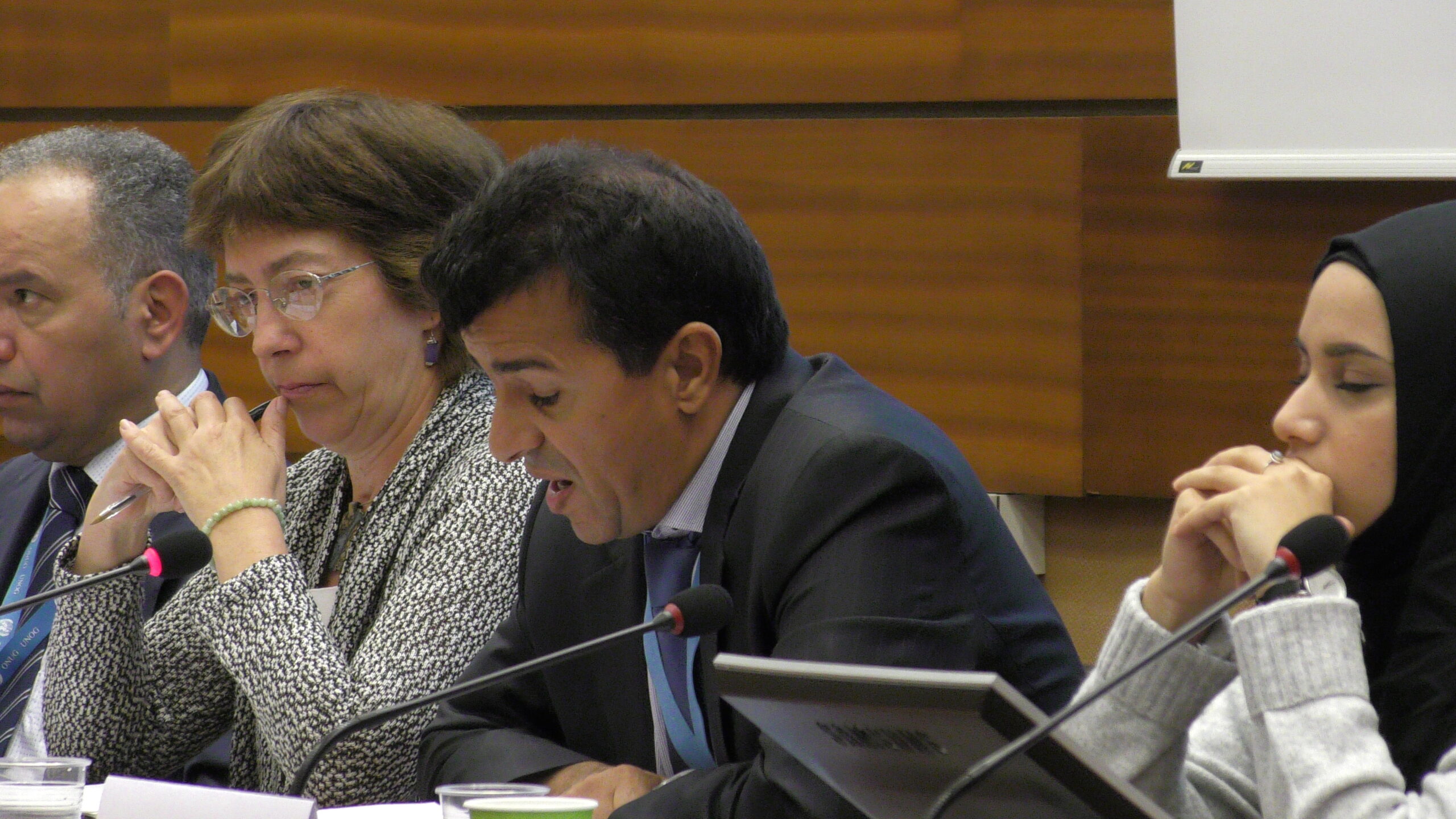 During the last few years the scale of violent extremism has made a major impact in the world, disrupting not only the lives of millions, but also interfering with the progress made on peace, security and the protection of Human Rights. While perpetrators can be of different ages, gender or nationalities, young people are especially vulnerable.
Within this framework, and in accordance with its strategy to foster value-based education to promote peacebuilding, Arigatou International Geneva in collaboration with UNESCO and the Permanent Mission of the Kingdom of Morocco to the United Nations in Geneva, organized a side event to the 33rd Human Rights Council entitled: Learning to Live Together: The role of education in preventing violent extremism. The event was held on 26 September at the Palais des Nations, bringing together more than 50 representatives from Permanent Missions to the United Nations in Geneva, International Organizations and civil society actors.
The panel was composed by H.E Mr. Hassan Boukili, Deputy Permanent Representative and Minister Plenipotentiary, Permanent Representation to the United Nations in Geneva, Kingdom of Morocco; Mr. Abdulaziz Almuzaini, Director of the UNESCO Geneva Liaison Officer, Father Lawrence Iwuamadi, Biblical Scholar, Ecumenical Institute at Bossey – World Council of Churches; Ms. Faten Madhi Al-Hussaini, Founder, JustUnity and Ms. Maria Lucia Uribe, Director, Arigatou International Geneva. The panel was moderated by Ms. Trisha Riedy, Manager, Peacemaking and Conflict Prevention Programme, UNITAR.
While recognizing education as one of the most powerful tools against the spread of extreme ideologies, the event aimed to explore what kind of education young people and children need to receive in order to build resilience and resistance to violent behaviors and to learn to live together in inclusive societies. The discussions also explored the role of governments, civil society organizations and religious communities, and served as a platform to share good practices in both formal and non-formal education.
Mr. Almuzaini stressed the fact that young people must be a priority and should be part of the solution against radicalization and violent extremism. He highlighted the crucial role of education: "Violent extremism is on the rise and is striking every society, spreading fear and violent ideologies. Education is key to prevention, and it is a strategic response to the threats faced by young people."
The UN Secretary-General's Plan of Action to Prevent Violent Extremism recognizes education as one of the seven priority areas to be considered when developing national plans of action and regional strategies for prevention. It is this light that Mr. Boukili presented a series of initiatives that the Kingdom of Morocco has been implementing to foster openness and interfaith dialogue. One of these initiatives is being carried out by the National Institute benefiting hundreds of Imams from Africa, Asia and Europe with training programmes on moderate Islam. He also mentioned a famous TV programme where Islamic religious leaders have the opportunity to reach out to youth with positive and transformative messages, highlighting the importance of using alternative platforms to convey positive messages.
He also mentioned several initiatives that the Kingdom of Morocco has been coordinating at the UN level to prevent violent extremism, citing the establishment of a Group of Friends on Preventing Violent Extremism, in September 2016, as well as the Joint Statement of the Group of Friends on Countering and Preventing Violent Extremism supported by more than 40 countries, during the 33rd session of the Human Rights Council.
One of the highlights of the session was the intervention of 21-year old, Ms. Faten Al-Hussaini, co-founder of JustUnity, an organization that offers customized courses, lectures and workshops for students, teachers, local authorities, police, businesses and organizations to help prevent radicalization and extremism among young people in Norway. Based on her experience as a young Muslim growing up in Europe and working directly with vulnerable youth, Ms. Al-Hussaini highlighted the importance of social inclusion of migrant families into the national culture as one of the first steps to prevent extremism. Marginalization from both the local culture and the community of immigrants exacerbates the feeling of rejection and not belonging. In turn, they are welcomed by radical groups where they can find a new sense of belonging.
Religious communities and leaders can play a key role in fostering interfaith understanding and respect among youth by promoting coexistence of people of all cultures and faiths. On this topic, Father Lawrence Iwuamadi how religious leaders and communities are often role models for children and youth; but also can become messengers of a negative rhetoric. Religious leaders need to be intentional about creating a conducive environment that promotes dialogue and understanding.
Ms. Maria Lucia Uribe, Director of the Arigatou International Geneva, stressed the importance of acting in a holistic way, "It is not enough to talk about formal education, when the development ecosystem of a child is composed of the family, religious institutions, school, media, social media, and the neighborhood where they grow. Therefore, it is necessary to address these places and promote education that goes beyond the school setting."
She also presented its Learning to Live Together Programme as a practical tool to help equip children and youth to make ethical decisions, nurture their spirituality, respect others and appreciate diversity, and contribute to transform their communities together. The Learning to Live Together Programme has been implemented in more than 30 countries reaching over 15,000 children. She stressed
Arigatou International Geneva looks forward to continue working together with partners to develop innovative ways to tackle through learning to live together programs some of the conditions that lead young people to extremist groups. It is in our hands, as organizations working for the well-being of children, to work collaboratively with governments and international organizations to develop policies, programs and learning spaces for young people to foster inclusive identities, their sense of belonging and capacity to live and work together with those who are different to them.
We thank our partners for their support, the panelist for enriching the conversation with their valuable expertise, and to all attendants for their participation.
Find here the complete report of this event