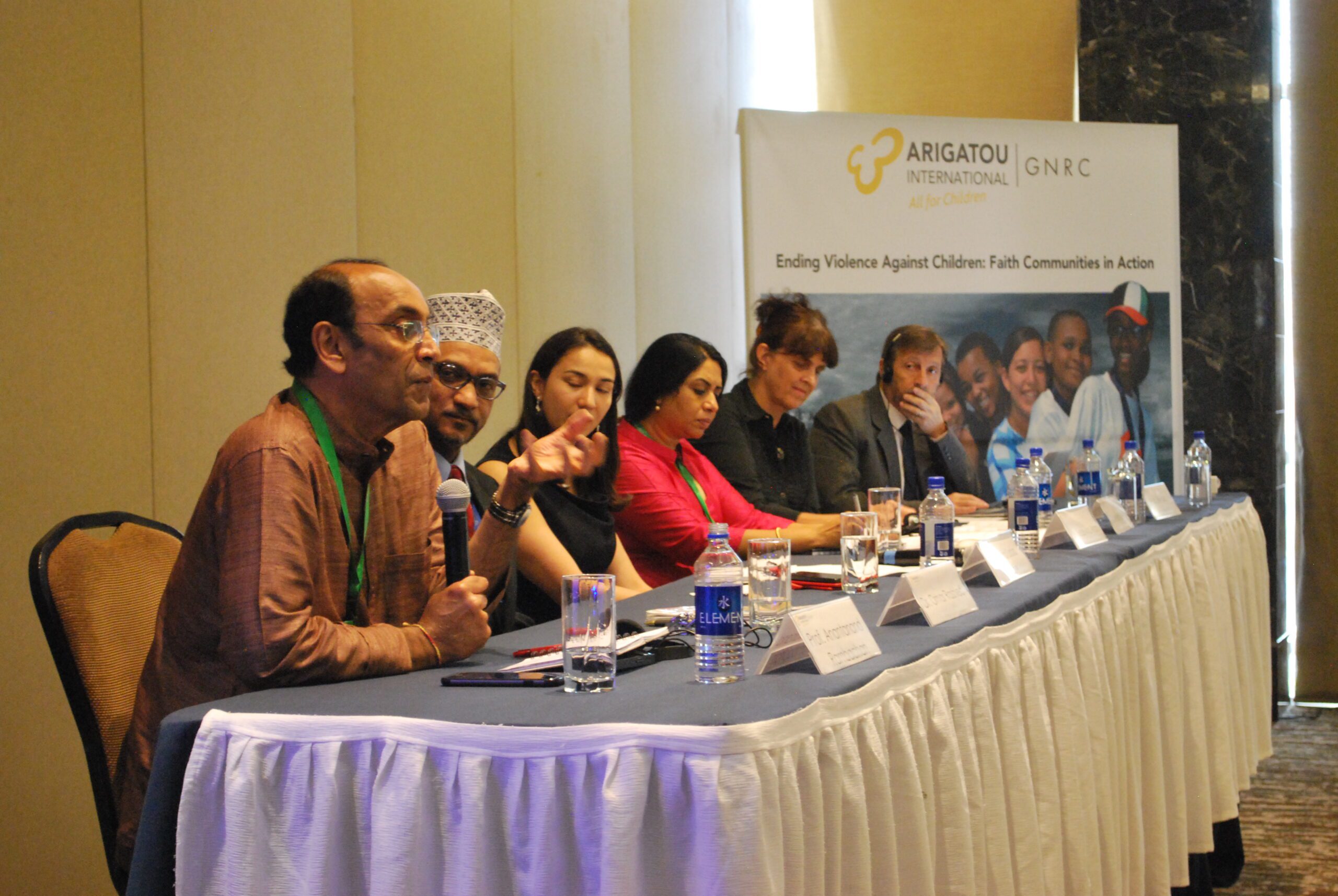 More than 100 attendants participated in a panel discussion held in Panama City on 11 May 2017, during the third day of the Global Network of Religions for Children (GNRC) Fifth Forum. In this occasion, participants were invited to reflect on the role of ethics education to nurture spirituality in early childhood through family engagement.
Dr. Kezevino Aram, Director, Shanti Ashram and Chair of the Interfaith Council on Ethics Education for Children, Arigatou International; and Mrs. Maria Lucia Uribe, Director, Arigatou International Geneva, moderated the panel and introduced the topic reflecting on how the family continues to be the natural environment for children to grow, thrive and develop. By engaging caregivers in building safe, healthy, affectionate and respectful environments, and by drawing on resources from religious traditions, children can be equipped to develop their spirituality, strengthen their identities, and thrive with others in plural societies.
The panel, organized by Arigatou International Geneva, aimed to identify the environmental and societal factors that hinder or foster the ability and possibilities to nurture spirituality and ethical values in early childhood; discuss the role of and ways religious communities can help nurture spirituality in early childhood as well as support families and caregivers in this task; and reflect on how ethics education and spirituality in early childhood can foster inclusive identities that can prevent extremism and violence.
The multidimensional panel of experts was composed by Dr. Melanie Swan, Global Advisor on Early Childhood Development, Plan International; Imam Dr. Rashied Omar, Research Scholar of Islamic Studies and Peacebuilding, and Member of the Interfaith Council on Ethics Education for Children, Arigatou International Geneva; Dr. Anantanand Rambachan, Professor of Religion, Philosophy and Asian Studies at Saint Olaf College, and Member of the Prayer and Action Council, Arigatou International New York; and Professor Enrique Palmeyro, Global Director, Scholas Occurrentes.
The discussions highlighted early childhood as the most important developmental phase in life as it is the period of most rapid learning, development and "brain-building". Dr. Swan stressed that children are learn­ing from the moment they are born, and they learn through interactions with adults, other children, and the world around them; through play and exploration; and through observing what others do and say and how they behave. Unfortunately, as Prof. Palmeyro explained, nowadays exclusion and consumption are part of the children's reality, affecting the acquisition of values and the possibility for children to nurture their spirituality.
As for the role of religious leaders in preventing extremism and violence starting from early childhood, Dr. Omar stated that fostering a strong sense of identity is the most important aspect of preparing young children to deal with negative responses to their faith. The role of religious leaders is to nurture young people with an inclusive spirituality and foster values to help them deal with negative prejudices and respond in nonviolent ways. Dr. Rambachan addressed the subject of violence in the family and highlighted the great need for a more optimistic view of human nature which can lead to differ­ent child upbringing practices, not depending on fear or pain, but lead by the inherent goodness of human beings.
We are especially grateful to the panelists for their thought-provoking contributions, and to the attendants, for their enthusiastic participation.
As part of the follow up of the panel discussion and as a contribution to the implementation of the Panama Declaration, Arigatou International Geneva is working on the development of a program with religious leaders to support families in strengthening values and fostering spirituality in early childhood.
The report of the panel discussion and videos of the interventions are available HERE.