With over 140 participants from 45 countries, the online course on Ethics Education for Children: A Transformative Pedagogy to Learning to Live Together, came to an end on 26 June 2020 with an online celebratory event.
The crisis brought by the Covid-19 pandemic forced 1.5 billion children out of school and into new remote learning modalities. During these challenging times, educators have a critical role to play in supporting children's social, emotional and spiritual well-being, and creating learning opportunities to strengthen children's critical thinking, sense of belonging to a larger community, interconnectedness with others while keeping physical distancing, and providing spaces for children to reflect about and respond to the ethical challenges we all face.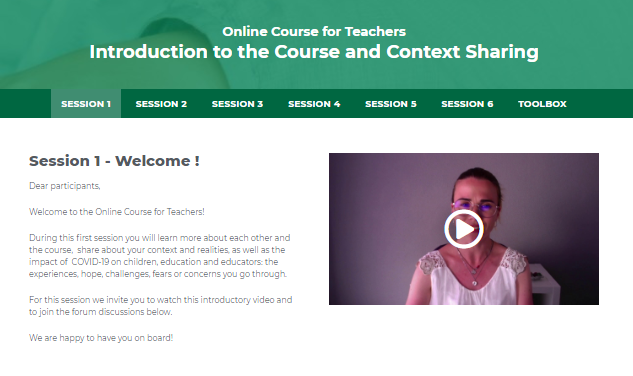 During this course, based on the Learning to Live Together Programme and its Ethics Education Framework, educators were introduced to the Transformative Pedagogy promoted by Arigatou International, and engaged in different activities to reflect on the impact of the Covid-19 pandemic on children, educators, and education itself.
"A very insightful and enriching course. A very deep analysis with clarity and easy to adapt methods. It has given me new perspective and many creative and innovative ideas to continue my social work with children and young people," said one of the participants.
By looking into case studies and listening to the voices of children, participants learned how to create safe, inclusive and participatory learning environments for children.
Through an interactive discussion with experts on the ethical challenges posed by the pandemic and its implications for children and youth, they identified how to support children and young people to be more resilient and hopeful, and to become agents of positive change in their own communities.
The group of experts included Dr. Angeliki Aroni, Head of the Independent Department for the Coordination & Monitoring of the Refugee Education of the Ministry of Education & Religious Affairs of Greece; Prof. Anantanand Rambachan, Professor of Religion, Philosophy and Asian Studies at Saint Olaf College, Minnesota, USA; Prof. Amr Abdallah, Emeritus Professor and Former Vice-rector at the University for Peace (UPEACE), and Dr. Yumiko Yokozeki, Director, UNESCO Institute for Capacity-Building in Africa. The discussion was moderated by Ms. Maria Lucia Uribe, Director of Arigatou International Geneva.
Participants explored and reflected on the role and influence that educators and school actors have in helping children flourish, make connections, foster their imagination, and contribute to building a new world.
Dr. Ilham Nasser, Senior Researcher at the International Institute of Islamic Thought, shared recommendations and concrete tips to support children's social and emotional wellbeing. She explained the importance of self-care and keeping routines for both adults and children, as well as reaching out to others, maintaining connections, and keeping things simple.
Finally, participants learned about children's meaningful engagement and active participation through collective and collaborative actions. One of the strongest components of a Transformative Pedagogy is that children and young people are empowered to take action and develop their own initiatives for community engagement and transformation.
"I am very happy to see that all educators from different parts of the world are fighting for children and giving young people the opportunity to express themselves and show their talents, knowledge, attitudes and opinions," expressed a participant at the end of the course.
In addition, the online course included access to an Ethics Education Toolbox with several resources that can be used with children aged 4 to 18 in intercultural and interfaith contexts, as well as an optional online consultation to closely guide educators interested in implementing an ethics education program with children.
This online course is part of "Faith in Action for Children," a global campaign developed by Arigatou International and its initiatives to support religious communities, parents, caregivers and teachers around the world to work for the physical and spiritual wellbeing of children during the Covid-19 pandemic.
We thank the group of experts that joined the different sessions for sharing their time and knowledge, as well as the participants for their commitment and enthusiasm.