The newly appointed Director for Arigatou International, Ms. Maria Lucia Uribe Torres has taken on the leadership responsibilities for the office in Geneva.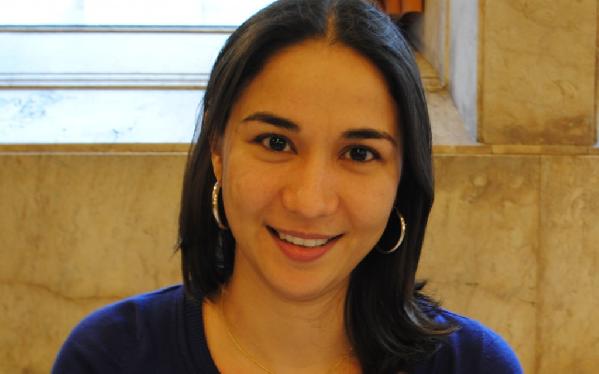 Ms. Maria Lucia Uribe Torres has recently taken up the leadership of Arigatou International in Geneva. She replaces Ms. Agneta Ucko, who served as Director since 2003 and now moves into retirement. Liaising with UN agencies and child-rights focused NGOs, Arigatou International in Geneva is also coordinating and monitoring the Arigatou International program on ethics education for children.
Ms. Uribe Torres is originally from Colombia. She recently served as Coordinator and Deputy Coordinator for Education and Fragility for the Inter-Agency Network for Education in Emergencies (INEE), based at UNHCR in Geneva, Switzerland. She was in charge of coordinating the strategic work plan of a Working Group on Education and Fragility composed of 29 international agencies, and providing technical support and expertise on issues relating to education, conflict and peacebuilding within INEE.
Ms. Uribe Torres worked with Arigatou International in Geneva for five years where she held the position of Program Officer. She was responsible for the coordination of the development of the Learning to Live Together manual developed in cooperation with UNESCO and UNICEF, and of the planning, facilitation and evaluation of workshops with children and youth, and training of educators in more than 15 countries. Previous to her involvement with Arigatou she worked with AIESEC, where she held the position of Vice-president of External Relations for the Colombian Chapter and later on Vice-president of Human Resources for the Sri Lankan Chapter. She also worked with HSBC Sri Lanka developing leadership skills in university students in Colombo as part of a Corporate Social Responsibility program.
Ms. Uribe Torres has 11 years of international experience working in global, intercultural, interfaith, human rights, child rights and peace education. She has knowledge and experience working with conflict analysis models, mediation theories, networking, fundraising, partnership building, and studying the connections between education, conflict transformation and peace building.
She holds a Master in Peace and Conflict Transformation from the University of Basel, Switzerland, a specialization in Economic, Social and Cultural Rights from the University College Henry Dunant in Geneva, Switzerland, and a Bachelor degree in International Relations and Finance from the Externado University of Colombia.
Ms. Uribe Torres is married and lives in France close to the border with Switzerland.