The GNRC Europe arranged a national meeting in France to explore collaboration around children's issues and to introduce the ethics education initiative

Responding to the invitation of Coordinator of GNRC Europe, some thirty people of different religious traditions met in
Paris
on 21 – 23 October 2005 to explore possibilities of establishing a national group of the GNRC Europe network and to get introduced to the ethics education initiative initiated by the GNRC.
The participants were introduced to the resource material for ethics education that is underway under the direction of the Interfaith Council on Ethic s Education for Children. The draft resource kit will be introduced and tested in various regional meetings. Interfaith learning and ethics education will enable children and young people to make a contribution to building a world that is truly fit for children, which ultimately is a path to true and lasting world peace.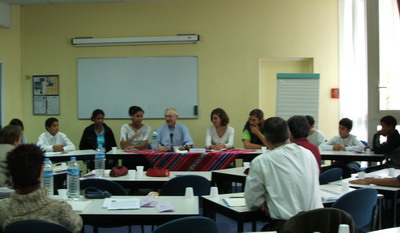 The meeting in
Paris
searched to encourage dialogue and collaboration among different religions, educational experts and adolescents around the issues of living together in a plural society. Participants engaged in practical work in small groups and joined in common prayer. The young people attending the meeting shared their experiences in trying to live out their faith in a panel discussion.


The meeting concluded in formulating an action plan for the GNRC Europe group in Paris .