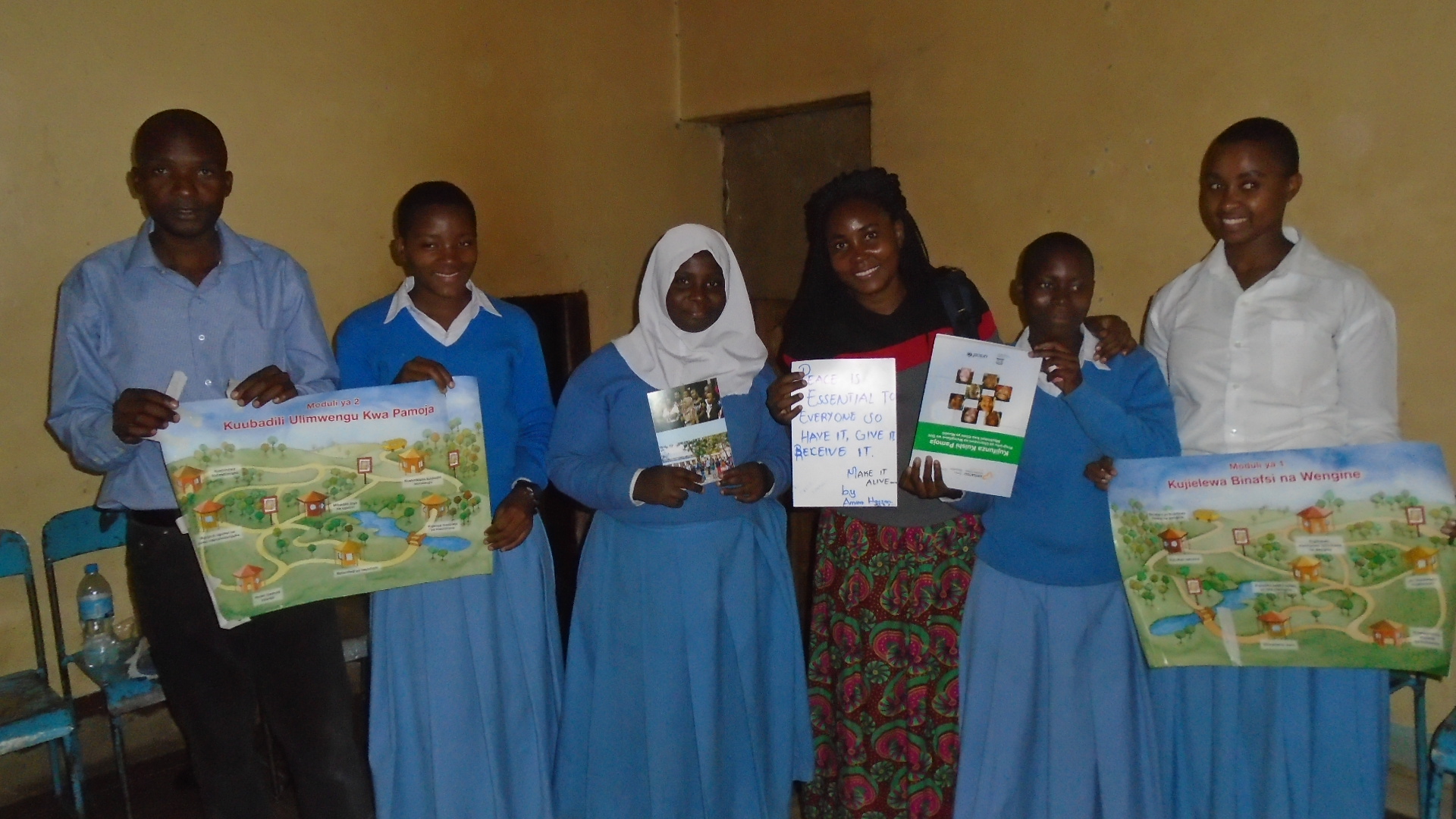 Following a Facilitator Training Workshop that took place at the end of 2017 in Dar es Salaam, Tanzania, over 1,300 children and youth from 17 madrasas, primary and secondary schools have been reached by the Learning to Live Together Programme.
During the workshop, 28 teachers and youth mentors who have been working with youth from the Global Network of Religions for Children (GNRC) Peace Clubs were trained on how to use the Learning to Live Together Programme in their schools and organizations. As a result, 900 children aged 12 to 17 have been reached by the systematic implementation of the Programme in 12 schools, and another 400 children have been reached through different activities based on the Programme that have been carried out by their teachers.
This implementation is being held in the context of the GNRC Peace Clubs, a platform used by GNRC-Tanzania to bring together children and youth of different faith and cultural backgrounds to foster mutual understanding and build a culture of peace in their communities. It is through these clubs where children and youth are nurtured to become peace ambassadors by strengthening their commitment to justice, respect to human rights, and dignity. The implementation aims to weave a sense of belonging in children, and foster ethical and spiritual values while addressing violence against children, particularly corporal punishment and bullying.
Part of the impact of this implementation was possible thanks to the establishment of a local Community of Practice, that has allowed teachers to share on the challenges and opportunities of implementing Learning to Live Together in their local contexts, and to work together in planning and organizing different activities. Also, the support and follow-up given by the local GNRC and the fact that the implementation is part of the GNRC Peace Clubs, has made a big difference in the sustainability and reach of the implementation.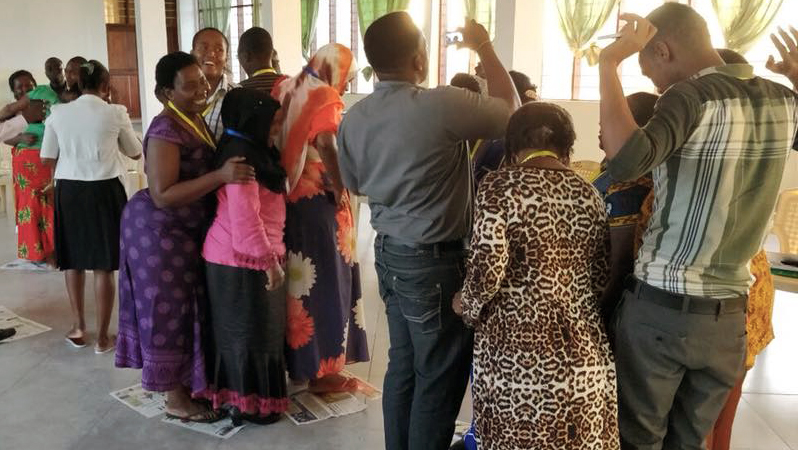 Mr. Morris Ntilla, Advanced Facilitator of the Learning to Live Together Programme, and Program Officer on Ending Violence against Children, GNRC has been visiting the different Peace Clubs to monitor the implementation of the Programme and follow up on the activities carried out in each of the schools. After taking part in the systematic implementation of the Programme, children have come up with different advocacy activities and campaigns to address local issues.
Also, the facilitators have used the Learning to Live Together Programme in different scenarios, like the HAKI YETU Project, an Advocacy and Awareness campaign, focused on fighting discrimination and mutilation of people with albinism. In this framework, Ms. Joyce Mdachi and Ms. Clara Mduma used Learning to Live Together throughout the project's campaigns and workshops to promote ethical reflections among religious leaders, public leaders, and other beneficiaries, reaching over 3,870 people.
On 22nd February and 1st March 2019, 35 Peace Club members from Kambangwa Secondary school participated in a workshop on Ending Violence Against Children – Children's Rights, using the Learning to Live Together Manual. GNRC– Tanzania facilitators; Mr. Morris Ntila and Mr. Venance Temu sought to expand on the topic and raise awareness among children on Child Rights as provided by the Tanzanian Child Act 1997. Facilitators enlightened and shared knowledge with participants on how ethics education can be applied as a tool to overcome violence in our society.
Throughout these two years, the Programme has equipped children and youth with positive values that promote peace and mutual respect and empowers them to become Peace Ambassadors and to advocate for their rights.
Teachers reported that after the implementation, children have shown a behavioral change; reducing negative behaviors such as violence and bullying, especially in the school community. They are able to make ethical decisions and have enhanced their critical thinking skills. The workshops have enabled children and young people to be partners in building a safe environment together.
Facilitators have acknowledged and affirmed the diversity of the group of children they work with, and have been able to empower them to learn to live in a plural society. Also, religious leaders have noted that religious traditions need to make a conscious effort in revising their teaching practices, and they have re-focused their attitudes and priorities towards addressing the concerns of children affected by violence.
We thank the teachers and youth leaders from the GNRC Peace Clubs in Tanzania, for trusting the Learning to Live Together as a tool that can help bring about change and a positive transformation in children, their community, and society at large. It is our hope that we can keep working together to train more facilitators, strengthen the local Communities of Practice, and ultimately, reach even more children and youth across the country.