A three-day basic training for Educators on 'Learning to Live Together (LTLT)' was held in Kathmandu, Nepal from September 15th to 17th, 2011. The workshop was organized by Peace Education Network-Nepal (PENN) together with GNRC South Asia Secretariat and Arigatou International. Twenty nine participants participated in the training, including teachers, NGO workers, CSO workers and trainers. The workshop was carried out by Master Trainers, Suchith Abeyewickreme, the Secretariat Coordinator for GNRC South Asia, and Maria Lucia Uribe from Arigatou International.Read more The goal of this training workshop on the LTLT Manual in Nepal was to train educators from formal and non-formal education settings on how to use the Manual effectively with children and young people. The sessions were run following the learning principles embedded in the LTLT Manual, with highly participatory and experience-based learning methodologies. Keeping participants' learning needs at the centre of the learning process, the methodologies carried out in the Training/workshop honored different learning styles in order to develop the full potential of each participant. Participants were provided with LTLT Manuals and learning materials to complement the learning sessions.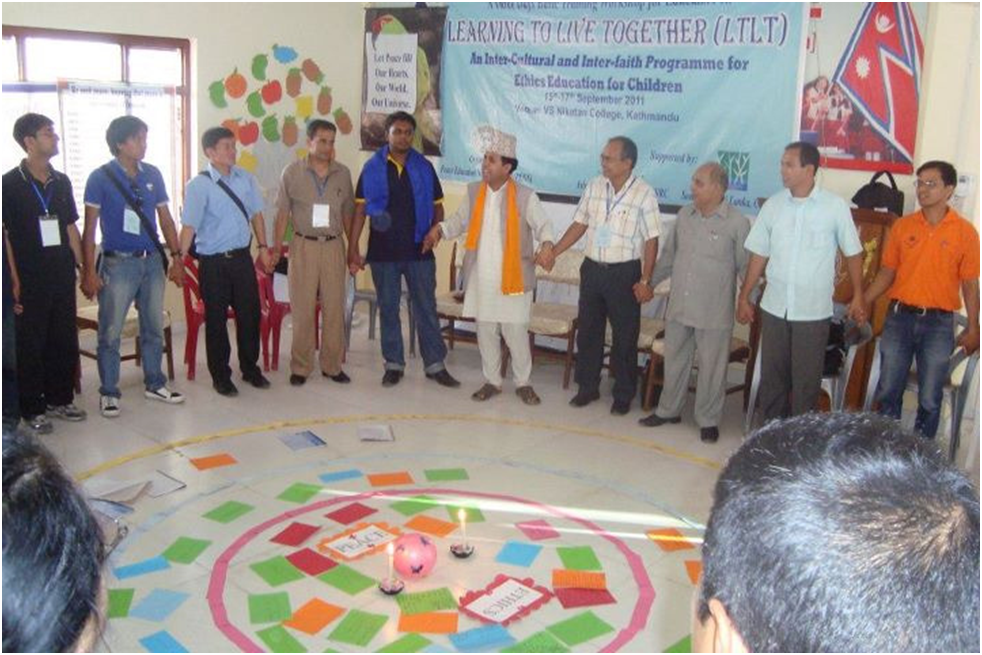 At the end of the workshop, participants were able to develop an action plan for implementing LTLT in Nepal in the formal and non-formal education settings they work in.
"I will take this manual to remote villages in Nepal and implement among the children in government schools" said one school teacher from a rural village.
Peace Education Network-Nepal has set up a seven step Action Plan for implementing LTLT Manual in Nepal and will be in charge of conducting a follow up and an evaluation research.