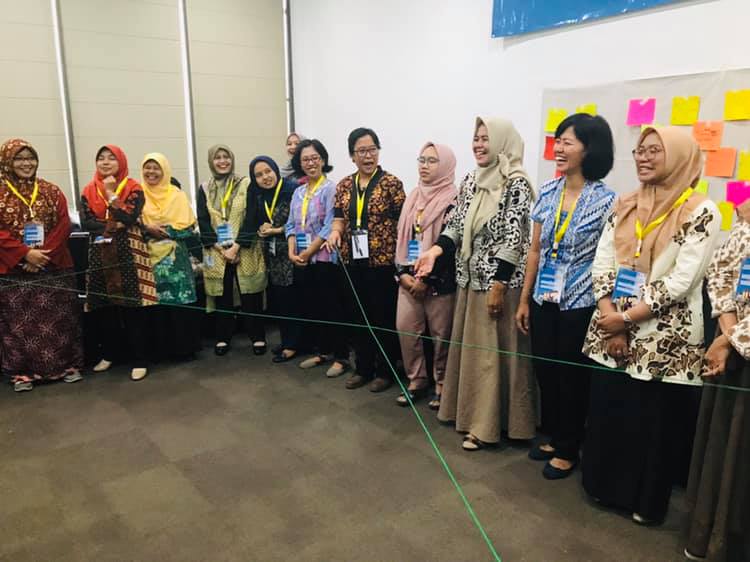 As part of a commitment towards scaling up the Learning to Live Together Programme at the national level in Indonesia, the manual was officially launched in Bahasa during a ceremony that took place in Jakarta on 29 July 2019.
Since 2012, the LTLT Programme has reached over 1,000 children in more than 30 schools throughout the country. The translation of the manual constitutes another step towards scaling up the Programme at the national level, through the work of the Indonesian National Commission for UNESCO and the Ministry of Education, with the support of Arigatou International Geneva.
The ceremony counted with the participation of: Dr Praptono, Director of Management of Basic Education of the Ministry of Education Dr. Shahbaz Khan, Director of UNESCO Office Jakarta and Regional Bureau for Science in Asia and the Pacific, Dr. Syafiq A. Mughni, Special Envoy of the President of Indonesia for Interfaith and Intercivilizational Dialogue and Cooperation, who provided remarks on the importance of learning to live together in the country and the role of education.
The opening remarks were given by Prof. Dr. Arief Rachman, M.Pd, Executive Chairman, Indonesian National Commission for UNESCO, Ministry of Education and Culture.
Ms Maria Lucia Uribe, Director Arigatou International Geneva, underscored the importance of education for peacebuilding, particularly to foster mutual understanding and respect, critical thinking and children's capacity to navigate the challenges they face in ways that are respectful towards others and help them build bridges of trust and transform their communities.
The launch was followed by a press conference and a four-day Facilitator Training Workshop for 30 teachers from primary and secondary schools from different parts of the country.
The workshop allowed participants to get familiar with the principles of the LTLT Programme, its methodologies, and educational approach, and to reflect on issues affecting children in schools in the Indonesian context. The teachers are expected to implement the Programme in their schools for a period of four to six months.
Opportunities were created for teachers to reflect on how participatory and interfaith learning opportunities can help children to break down stereotypes and to build positive relationships with one another.
Special thanks to Dr Hasnah Gasim, ASPnet National Coordinator – Indonesia National Commission for UNESCO for the leadership and support, and to our international trainers and Wati Wardani and Mr Fendra Kusnuryadi for their constant commitment towards spreading the values and principles of the Learning to Live Together Programme in Indonesia.