The Learning to Play Together good practice booklet has officially been launched and is now available. This is an excellent tool for those interested in using games and sports to promote mutual understanding and respect as well as fostering ethical values in children through play, critical reflections, collaboration and action.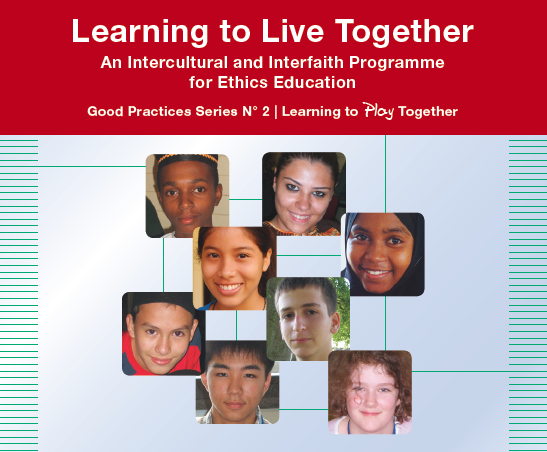 Developed by Dr. Angeliki Aroni, an international Trainer for Learning to Live Together and an expert on Intercultural Education, the booklet showcases the adaptation of the Learning to Live Together Programme in physical education.
Learning to Play Together was developed in Greece with fifth-grade students coming from various ethnic and cultural backgrounds, most not having a common spoken or written language. Dr. Aroni was able to introduce the program during the "flexible hours zone" where students and teachers are able to design, develop and implement projects using cooperative, problem-solving techniques, of issues and problems of everyday life that interest them.
The main objectives of Learning to Play Together are to: foster self-esteem and empowerment; facilitate interethnic contact and social cohesion; promote respect by challenging gender and ethnic stereotypes; and promote a culture of peace and coexistence.
"Learning to Play Together seeks to provide socialization opportunities for the intercultural school students with the more homogenous student bodies of neighboring schools, and to enhance cross-cultural relationships, thereby enhancing awareness and understanding of other cultures so that respect, responsibility, empathy and reconciliation are practiced more often."
Inside the booklet you will find "multicultural games, cooperative games and Learning to Live Together activities adapted for physical education. Multicultural games give a possibility for the students to interact and learn with each other's culture and background. On the other hand cooperative games help to promote "group interaction and communication along with problem solving skills and team building."
Physical education activities are able to develop children's abilities but it also helps them to fully engage with other students. The games and activities included in the booklet follow the educational approach of the Learning to Live Together Programme and help make the sessions interesting and meaningful. Students who went through the Learning to Play Together programme shared that the programme was valuable for them and gave them the opportunity to understand their fellow classmates and others through dialogue, interaction and discovery.
You can download the booklet in
Learning to Live Together Programme
, and
Aprender-a-viver-juntos
.
For more information, please contact Arigatou International Geneva at
mail@arigatouinternational.org