A one day training Workshop took place on the 22nd of August in Geneva, Switzerland on the occasion of the Stewards Ecumenical Leadership Training Seminar organised by the World Council of Churches. The purpose of the workshop was to introduce theLearning to Live Togethermanual to the participants as a tool for peace building. The stewards participating came from 16 different contries. Read more…
The one-day workshop on Learning to Live Together had a two-fold objective, first to introduce the manual in a practical and experiential way as a tool to be used in peace building activities and projects, and second to provide the participants with a space to reflect about peace building and concrete activities that they could promote/implement with children and young people in the framework of the Ecumenical Peace Convocation organised by the World Council of Churches, WCC.

During the first session, the participants were introduced to Arigatou International and the GNRC and how the Learning to Live Together relates to peace building through promoting ethics education, interfaith and intercultural learning, nurturing spirituality in children and protecting and promoting the rights of the child. In small groups the participants discussed these four areas through specific questions and shared their thoughts and reflections in plenary. This activity helped them to further reflect on the different layers of peace building and on what concretely can be done to promote peace.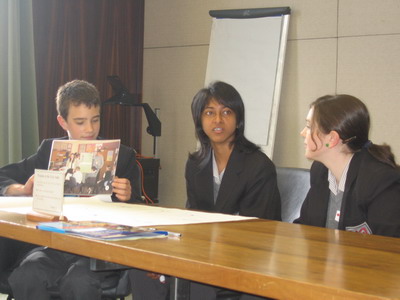 These discussions stressed the importance of team building and working together on issues that do not necessarily they agree about. This way they familiarized themselves with the methodologies and the learning process at the basis of the pedagogical material.
The second part of the workshop was used for two activities taken from the manual. The first one called What I stand for encouraged the participants to take a stand for what they believe in, in order to reflect on their own beliefs and those of others. The second activity called Diminishing islands introduced the participants to the topic of conflict and non-violent alternatives. The participants reflected about the causes of conflicts in their societies. This helped them think of spaces for alternative ways of transforming conflicts so a win-win situation can be created.
Four themes were used to emphasize the importance of peace building in different settings : Peace with the earth, peace in the community, peace in the marketplace and peace among peoples, which are the main themes of the Ecumenical Peace Convocation used by the WCC. Using the Six-Step Problem Solving activity from the manual, the participants discussed ways to transform situations or conflicts in each area.
At the end of the day, a session was held by facilitators of the WCC to connect the learning of the day and the use of the manual to the concrete projects they will be involved in for the Ecumenical Peace Convocation.
A special thanks to Ms. Marta Palma, GNRC Coordinator in Europe for establishing the collaboration with the World Council of Churches.