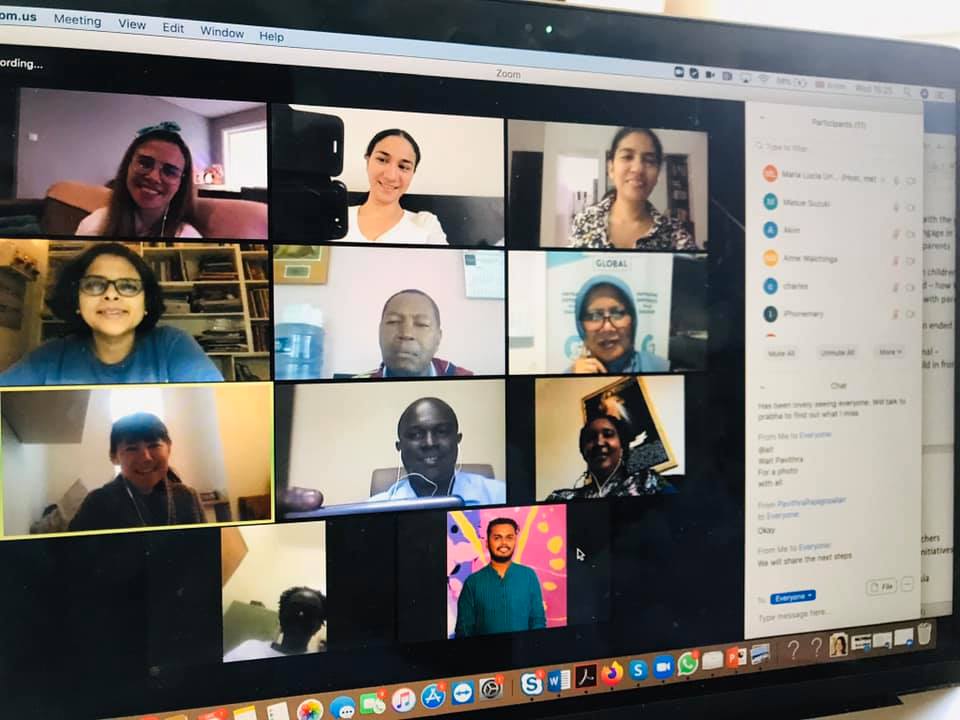 Arigatou International Geneva conducted three online meetings, to connect with Learning to Live Together International Trainers in the framework of the Covid-19 Pamedmic. The meetings resulted in an action plan to respond to the more pressing needs brought up by this unprecedented sanitary crisis, from the ethics education perspective, and in line with the Faith for Action Global Campaign.
Under the title "Responding and caring for our children together," the meetings were held on 31- 31 March, and 01 April 2020, convening 30 trainers from Bhutan, Brasil, Chile, Colombia, Ecuador, El Salvador, Greece, India, Indonesia, Japan, Kenya, Lebanon, Nigeria, Mauritius, Romania, Sri Lanka and Uganda.
During the meetings, participants shared how each of them is coping with the impact of the pandemic at the personal and professional level, and how it affects them, the children and the work they do with them. National social distance measures to prevent the spread of the virus have resulted in many schools, places of worship, and educational institutions around the world being closed, which has heavily impacted the work of the trainers. This moved them to re-think the way they approach children to continue to provide support addressing their emotions, fears and concerns and help them imagine the world they want to see after the COVID-19 Pandemic. Trainers are creating opportunities to empower children, as well as finding new ways to continue nurturing their spirituality and values like solidarity, hope and the acknowledgment of being part of a common humanity, as well as fostering their critical thinking and the way they make decisions while caring for one another.
"During these uncertain times, our trainers and facilitators all around the world are actively engaged locally and joining global efforts to support children, particularly the ones living in the most vulnerable contexts. In times of social distancing, the moral imperative towards children has been strengthened by the solidarity, commitment and joint efforts of our pool of trainers and facilitators that joined our campaign and are working tirelessly to protect children against violence and make sure their voices are heard. Our heartfelt gratitude goes to all of them," stated Ms. Vera Leal, Senior Program Officer on Ethics Education, Arigatou International Geneva.
In India, children are being encouraged to engage in online competitions on storytelling and singing as a way to keep them in contact with one another. In Greece and Lebanon, trainers are providing children in vulnerable contexts, and with no or very few access to technology, with printed educational materials that they can do together with their parents. Trainers in Romania are supporting other teachers by giving them ideas on how to motivate and engage children in their online classes. In other countries, messages of encouragement and hope are being shared with teachers, addressing their well-being and spiritual health.
During the discussions, trainers raised the issue of children's safety and well-being. Children`s basic needs are not being covered in many countries. Trainers in Latin América highlighted that many families in their communities rely on incomes from informal work, which is not being perceived during the confinement, and it's not being addressed by local economic aid programs. This is bringing more stress to the families, and increasing their vulnerability. Some of the trainers are helping to provide water and food for children in their communities, as well as mental health and psychosocial support.
Furthermore, violence against children and gender-based violence has increased in many countries with children spending an unusual amount of time indoors with their families. To address this issue, trainers are supporting parents by carrying online sessions and sharing resources to guide them through these challenging times.
The meeting also helped identify collective ways to respond during these difficult times, locally and globally, within the framework of ethics education for children. Trainers will work together in an action plan that builds on everyone's strengths and capabilities, to help support children and families during the upcoming months. The action plan includes advocating for education as a priority, particularly when governments are preparing to shift the investment from education to other areas; developing and disseminating messages to support parents and families in dealing with stress and confinement, and fostering ethics education spirituality to build resilience in children.
Arigatou International Geneva thanks all its International Trainers committed to working for the well-being of children, and looks forward to joining hands in action for the protection and empowerment of children during and after the pandemic.