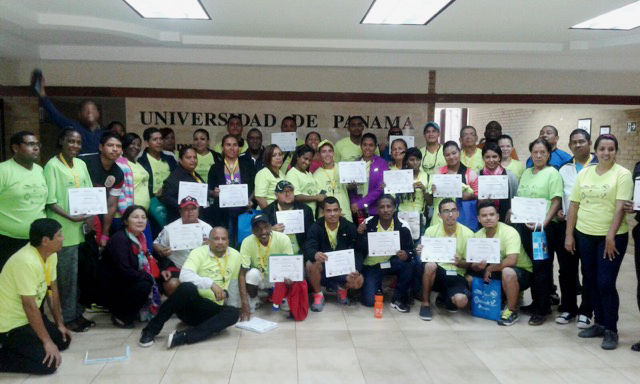 The Ministry of Social Development (MIDES) of Panama through its Safe Social Development Office (ODSS), in partnership with various organizations, launched the official campaign of the ENFOCA Project which aims to train social workers and teachers in Sport Disciplines for Character Development and Personal Autonomy for Children and Adolescents.
The Global Network of Religions for Children (GNRC) of Panama introduced the Learning to Live Together (LTLT) Programme as a solid educational approach to promote values through education and particularly through sports. The LTLT Programme will be one of the main pillars of ENFOCA to be rolled out with more than 300 children and adolescents between 13 to 17 years old living in social risk.
A total of 55 community leaders, volunteers and officials from the provinces of Panama, West Panama, Chiriquí, Colón and Veraguas were trained from 31 August to 2 September in the Arigatou International's ethics education approach. The workshop on the LTLT, which was supported by training on sports, aimed to prepare the facilitators to conduct a program on ethics education through the disciplines of basketball, volleyball, soccer and handball during the following months.
The LTLT Programme has been implemented during September and October in Chiriquí, Veraguas and Colón. The program aimed to equip children with tools that will allow them to make ethical decisions, respect diversity, think critically and use non-violent alternatives.
Facilitators are expected to use the experience gained in the training workshop and during the implementation of the program to empower the children and youth to become multipliers of the program. The aim is to replicate the program in 2016, with the support of all the organizations involved in the initiative.
The ENFOCA initiative was created in partnership with the Sports Institute of Panama (PANDEPORTES) and the University of Panama. It is funded by the Government of the Republic of China (Taiwan) through the Central American Social Integration Secretariat (SISCA), and with the support of the GNRC Panama, the Panamanian Soccer Federation (FEPAFUT) and 8 municipalities from the participating provinces.
Arigatou International Geneva has provided technical support to the process and is currently in discussions with the Ministry of Social Development to accompany the monitoring and evaluation processes.
Arigatou International Geneva thanks all partners involved in this initiative and the GNRC Panama for the promotion of the Learning to Live Together manual as a tool for the full development of young people.