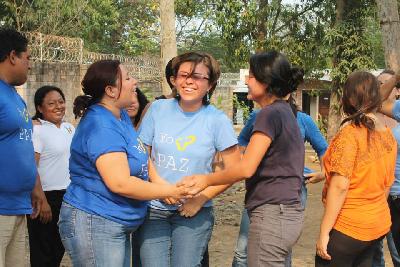 Our work on the Learning to Live Together (LTLT) began about 7 years ago, though in January 2014 a diverse group of religious institutions came together to launch again its implementation in El Salvador in order to respond to the reality that our country faces. A reality where there are several positive and negative aspects.
Since I got to know Learning to Live Together I discovered its potential to encourage interfaith coexistence, the possibility to meet one another and discover unity in the midst of diversity, the possibility to identify ourselves with the dreams of others, and know that we also have the ability to build new relationships and promote nonviolent alternatives.
Given the multiple contributions that Learning to Live Together has had among the young people from our religious institutions and its influence in formal and non-formal education, we decided to work on its implementation in six focal groups or communities of practice and accompany those processes by systematizing the experiences and learning throughout a period of ten months.
The LTLT implementation process caught the attention of more groups than we expected, and now there are nine focal groups involved in the process and enthusiastic to continue growing. We trained 30 participants during the LTLT Basic Training Workshop held in January and since then 10 more have joined the process. The experiences have been very rewarding.
Each Community of Practice developed its own action plan during the workshop and along the way they had adapted it and made changes to respond to the social changes in each community and at the national level. For various reasons violent actions have increased in the country, which has directly affected some of the members of the communities of practice. Despite the difficulties, the facilitators have shown their long standing commitment and voluntary work as well as their belief that it is necessary to work for our children.
This process has allowed us to recognize the valuable lives of those who are facilitating the implementation of the LTLT manual, their experiences, their thoughts, the spirituality they share with us and that we strengthen during our meetings.
It has also allowed us to get closer to our childhood; it has enlightened us to be able to better direct our path and walk together along a shared space, a space where we feel identified with one another, where we enjoy living together and where we feel safe; and so one is filled of joy and hope when we see the smiles of our children, when we listen to their sincere opinions, full of good questions that come from their innocence, and that precisely are asked because in the adult world we have complicated the human relationships.
Up until now, there are 4 communities of practice that have begun implementing the LTLT more systematically, involving approximately 400 children. It is expected that as we extend to the other five communities of practice we can double the amount reached so far.
The learning we have had so far continue to motivate us, helping us to create better strategies to serve. We, children, youth and facilitators that are involved in the process, can only conclude that we are learning to live together.