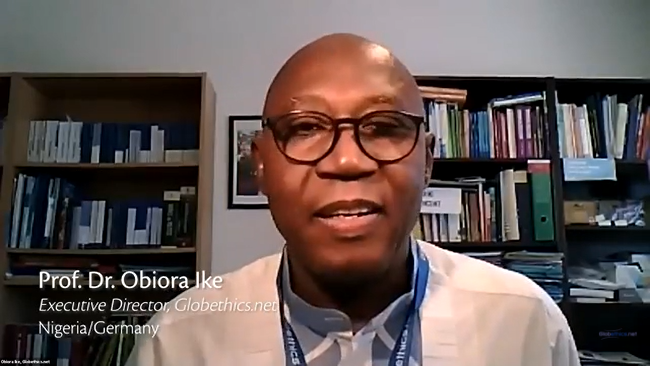 "Ethics is about hope; it is about life. How to enhance life in everything by doing the right in thought and in action." With these words, Prof. Dr. Obiora Ike, Executive Director of Globethics.net welcomed the participants to the International Online Conference on Building New Bridges Together.
The conference took place on 25 June 2020 gathering more than 1,500 participants from 87 countries. It was organized by Globethics.net around the vision that ethics in higher education can only be strengthened through an intergenerational alliance and common effort to build new bridges together. These new bridges are needed to cross the economic, technological and pedagogical divides that the COVID-19 pandemic has highlighted and forces us to face.
The conference was preceded by a week-long pre-conference that featured speakers who work with emerging educators, researchers or leaders. The speakers presented and facilitated discussions on four thematic tracks:
Track 1: Creating New Societal Visions in Higher Education: Values for Living Together
Track 2: Bridging the Gaps: Ethical Foundations of Online Teaching and Learning Pedagogies
Track 3: Online Education for a Sustainable Future: Quality and Ethical Standards in Higher Education
Track 4: Ethics and Skills for a Responsible Global Citizenship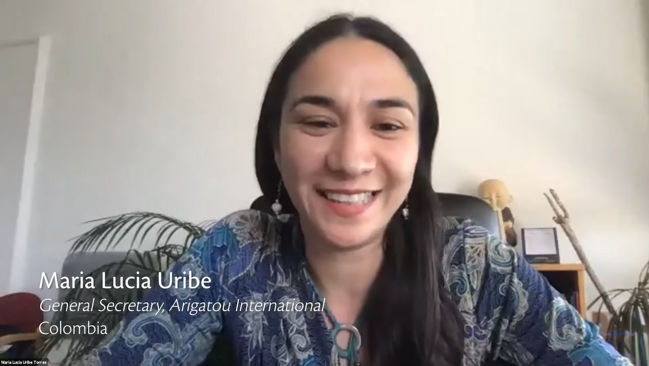 Ms. Maria Lucia Uribe, Director of Arigatou International GenevaMs. Maria Lucia Uribe, Director of Arigatou International Geneva, was part of the 20 experts that joined the discussions. She moderated the pre-conference on Bridging the Gaps on Ethical Foundations of Online Teaching and Learning Pedagogies and spoke during the conference on the Role of Transformative Pedagogies in Fostering Ethics Education.
In her intervention, she invited the audience to re-think education to bridge the gap between the realities of young people today, and the current educational systems. The Covid-19 has shown not only a disparity in the access to education and the quality of it but also how disarticulated education is from our societies and the realities of people, especially young people. "Education should be part of the solution, particularly today, when we are called, more than ever, to build on our interconnectedness as human beings, to work together, to activate a collective leadership and challenge the divisiveness, the increase in hate rhetorics about the other, and to build a new normal that is fairer, just, and helps build and ethical foundation for a new world."
She highlighted three aspects of a transformative pedagogy on ethics education that can provide new thinking on the role of education post-COVID-19: creating safe and participatory learning environments, reestablishing the role of teachers as facilitators of spaces for learning, and fostering an education that brings about transformation.
We thank Globethics.net for inviting us to take part in this event, and the participants for their interest in our work.
The recording of the conference and pre-conference can be found here.