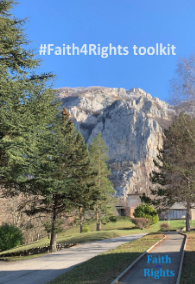 Arigatou International participated in an expert workshop to help validate the #Faith4Rights toolkit, a key piece of the Faith for Rights initiative, led by the Office of the High Commissioner for Human Rights (OHCHR) together with faith-based groups to help combat growing hate speech and intolerance.
The 2-day workshop was held in Collonges, France on 18 and 19 December 2019, aiming to complete the development of the peer-to-peer learning toolkit, based on the 18 commitments on Faith for Rights.
The workshop was attended by special procedures mandate-holders, treaty body experts, co-authors of the Beirut Declaration on Faith for Rights, and other specialists who collaborated to review and complete the toolkit. The #Faith4Rights toolkit was designed to enable faith actors to advance the full spectrum of human rights toward peaceful and pluralistic societies in a sustainable and self-appropriated manner. This toolkit aims to combat hate speech and religious intolerance, turning the Faith for Rights initiative into practical tools for outreach and capacity-building.
The United Nations High Commissioner for Human Rights, Michelle Bachelet, has emphasized the importance of exploring the relationship between religion, belief, and human rights. In commitment to the Faith for Rights initiative, she noted,
"We hope the 'Faith for Rights' framework will also inspire interdisciplinary research on questions related to faith and rights. Deeper exploration of the ethical and spiritual foundations provided by religions and beliefs can help to debunk the myth that human rights are solely Western values. On the contrary: the human rights agenda is rooted in cultures across the world. Respect for human life, and human dignity, wellbeing and justice, are common to us all. 'Faith' can indeed stand up for 'Rights' so that both enhance each other."
Following the workshop, the #Faith4Rights toolkit was finalized and launched in January 2020. The toolkit can be found here.
Arigatou International will continue to collaborate with the OHCHR and support the Faith for Rights initiative, particularly in the follow-up activities organized to implement the recommendations of the "Faith and Children's Rights" Study developed by Arigatou International in 2019.