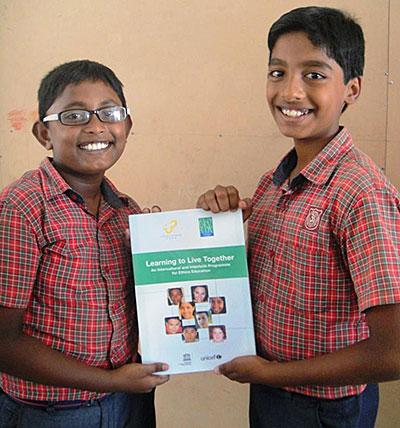 A facilitator training workshop on the Learning to Live Together (LTLT) programme was hosted by our partner Shanti Ashram from Coimbatore, India on 27 – 30 June. The workshop brought together 30 young volunteers and teachers from 14 institutions, coming from different educational backgrounds and from Christian, Hindu and Muslim religious communities. While majority of the participants were from Coimbatore, there were also participants from several other cities in India including Chennai, Kochi and Delhi.
The aim of this workshop was two-fold: To train young volunteers at Shanti Ashram to use the Learning to Live Together manual in an institutional program titled 'Solution Exchange' to empower children to address issues of poverty and violence affecting children in their communities ; and to train a group of Bala Shanti Kendra (BSK), Montessori and public school teachers to initiate a pilot programme titled 'Strengthening Families' which engages caregivers and parents on positive parenting programs that can help nurture ethical values in their children and strengthen family relations.
Ethics Education for Children
"I am working as a GNRC Coordinator Kerala and doing Ethics Workshop for the Children. I got this wonderful opportunity to be a part of this Facilitator training workshop on Learning to Live Together at Shanti Ashram. I got deepened in the knowledge level in the use of LTLT for Children. I assure the organizers that I will be able to cover 20 to 25 children in Kerala for the solution exchange lab."
Mr. Abilash, Kerala
Following the facilitator training workshop, the 'Solutions Exchange' programme was launched by Shanthi Ashram on the 8th of August 2014 during the Coimbatore Peace Festival. The first session for 47 children was focused on getting to know each other and child rights. Over a ten month period the programme aims to engage 50 children of diverse backgrounds to explore themselves, relationships with others in their communities and to work together to find solutions towards issues of poverty and violence affecting children.
Paralell to this process, an ethics education programme has been initiated by Ms. Prabha Karthik for Patashala Montessori School Children from Chennai. The programme will include a monthly ethics education session over a six month period engaging 35 children of ages 6-10 years from diverse faith backgrounds.
Ethics Education for Families and Caregivers
"I have started treating my daughter like other people's children. Like if they break a glass, I will not shout at them for the glass but be conceded about if they got hurt or not. I sit on my hands to keep myself from hitting my daughter and I have hit her only one in the last month. I find that my daughter has begun to show me the love she has for me in noticing when I am sad or upset and trying to help me or hug me to make me feel better. She never used to before."
Ms Subhashini
The teachers who were involved in the training have also initiated activities starting with the parents involved in the 'Sudar' programme for HIV/AIDS affected children and families of Shanti Ashram. An additional programme for parents has been initiated in Chennai by Ms. Prabha Karthik, trainer of the Learning to Live Together.
Ms. Pavithra Rajagopalan supported by Ms. Prabha Karthic has initiated an ethics education training programme for a group of volunteers working with Children's Home in Chennai. The Learning to Live Together is being used by the pair to support the learning of the volunteers and to provide spaces for ethical reflections on their engagement with children. Over the next months, the programme will provide interactive activities for children to empower them and challenge their stigmatization.
The use of the ethics education programme is valuable to provide awareness and further training to volunteers working with children in vulnerable situations, whom in many cases lack the necessary sensitivities to work with these children, contributing to their further stigmatization and infringement of their rights.
"I had good and purposeful time in Shanti Ashram by attending the Facilitator Training Workshop on Learning to Live Together from 27 to 30 June 2014. It was new experience for me since I mainly work with children in schools. I know about teaching but now I learnt about facilitation. Thanks for the opportunity and I will continue this in the Orphanage home where I will work with the caregivers of the children in strengthening families project."
Ms. Preetha Rajiv
Arigatou International Geneva is inspired by all the followup actions the participants and institutions have carried out leveraging on the training workshop and the ongoing technical support. Special thanks to Shanti Ashram staff and volunteers for providing the spaces for learning about ethics education and for becoming a hub for the development of projects based on the Learning to Live Together manual.