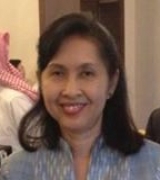 It is interesting for me to realize the interconnectedness of the notions 'ethics' and 'interfaith dialogue'; That is, both of them more or less are related to a word: relationships. According to my understanding, I support the explanation on 'ethics' provided on the Learning to Live Together Manual of Arigatou International: "how one chooses to relate to oneself, to others, and to earth, which sustains all life, is the primary manifestation of ethics and values". It is the relationships with all those around us. On the other hand, interfaith dialogue is related to 'deep listening' in order to 'learn, grow and change' from the misunderstanding to the better understanding. Although one is still able to keep ones' own position, it is expected that in the process of dialogue, one may touch the similar experiences of common humanity such as fear, anxiety, loneliness including search for happiness and avoidance of suffering. When one can touch and realize the similar destiny of our human beings, one may be able to transcend 'otherness' of others. That is to say, it is about 'relationships' between oneself and others. As Sean Rose said, "it's not about religion, it's about relationships!"
As far as I have been conducting dialogue processes for different groups of people, whether military, security officers, women, youth, villagers and religious leaders, I realize if one goes deeply in the process of dialogue of 'deep listening', the primary indicator of success is the better relationships among different groups, and different convictions of different people. At one time, a group of women from the government side who lost their beloved sons, husbands and relatives met with the group of women from the insurgency side in the deep South of Thailand. Both sides have negative feelings and attitudes towards each other. Later while they listened to each other, they discovered they had faced the same feelings of suffering and loss. Both sides described the economic burdens, loneliness, suffering, hard work and so on. They found out the similar experience of human destiny, their attachment to belong to 'different groups' disappeared little by little.
To repeat, 'human to human relationship' is important in interacting and living together harmoniously in this globe. Both ethics and interfaith dialogue try to point it out clearly and welcome the differences of each other.
However, living in this world is not easy due to our different identities and life styles. Conflictsthen happen any time. Although one knows that it is normal to face with the reality of conflicts among oneself and among others in the daily life, one still suffers and tries to escape from it. According to Buddhism, suffering is welcomed because it is the reality of life for us to learn and grow from it. Conflict is a kind of suffering that one needs to make use of it as a good lesson to analyze its nature and the root causes of it. Moreover, one needs to learn how to think, how to face it and transcend it peacefully. One needs to reconcile with oneself and others to understand and to remember its root causes and context around it. Above all, healing the suffering relationships is necessary to transcend any conflict and suffering. In this way, conflicts will not become violence. It is a simple way of 'conflict transformation' which includes a circle of understanding of 'content, context and a structure of relationships.
Peace building can then be cultivated in one's mind even if one is surrounded with any problem and conflicts. Let's pay attention to improve our relationships with oneself and others through understanding the nature of ethics and moral behavior. In addition, one needs to grow through encountering the other in the process of authentic dialogue in order to build peace in our minds while listening to the different convictions of others. That is to say, one learns both 'outer work' through listening to others' different reasons and standpoints, and cultivates 'inner work' through growing and developing inner spiritual growth. It is very challenging to have a lesson learned through our growing relationships!