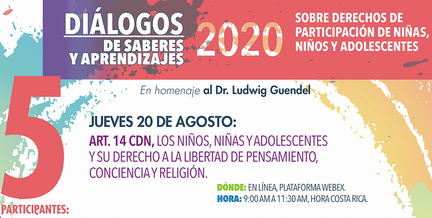 As part of the Dialogues of Knowledge and Learnings 2020, Defence for Children International (DCI) in Costa Rica, together with UNICEF Costa Rica and the National Patronage for Children, organized on 20 August 2020 a webinar on the Right of Children and Adolescents to Freedom of Thought, Conscience and Religions for Latin America and the Caribbean, as stated on Article 14 of the Convention on the Rights of the Child.
Ms. Maria Lucia Uribe was invited to represent Arigatou International and to speak about the topic, particularly from the angle of interfaith education and sharing about the work that Arigatou International does to empower children and youth.
This was also an opportunity for Carlos (17), one of the members of the GNRC Youth Committee, to join and share his perspective on the topic.
Carlos is from Nicaragua, and he is part of the Grassroot Ecclesial Communities. He studies Administration and is an altar server of the Catholic Church. When asked about how can children and youth have more opportunities to express their opinion, thoughts, and faith, he stated that "This is mostly on the adults' hands. They are the ones inheriting us that way of living and thinking." He shared about his experience at the GNRC Youth Committee, and how it has been a fantastic opportunity for him to learn and discuss the topics that affect him and other children.
Ms. Uribe shared about the Learning to Live Together Programme and how it can help to provide safe spaces for children to express themselves, learn and participate. When sharing about the Virtual Exhibition "Faith in Action for Children," she said "For us is extremely important to provide these spaces for children. Spaces where they can share not only how they feel now with the COVID-19 pandemic, but also, we see now how the world is being transformed and children should be part of this. What ideas do they have? How do they want this world to be? What is their role, and the role of adults?"
"I'm convinced that education and the educational systems play a fundamental role in the peaceful coexistence of our societies, helping us learn to appreciate diversity, creating spaces for dialogue, and for freely expressing our ideas, ways of living and thinking. This can only be achieved when we understand that the only way towards the development of more inclusive and just societies starts with our children. It is through the experiences we create for them that they start to see, understand and recreate the world," she stated.
She gave key recommendations to foster children and youth's participation and freedom of expression in patriarchal and adult-centered societies where children are not seen as subjects of rights. These included to provide safe spaces for child participation; to promote an education that can foster ethical values in children, and transform the vertical relationship with the teachers; to challenge our cultural norms that condone violence against children and gender roles, and to include the parents and caregivers in the transformation.
The webinar was moderated by Ms. Virginia Murillo, Executive Director of DCI Costa Rica, and it also included Mr. Edison Lanza, Rapporteur on Freedom of Expression, Organization of American States; Dennis, (16), GNRC – Costa Rica, and UNIPRIN – Costa Rica; and Harold Segura, Faith and Development Manager, World Vision Costa Rica.
We thank the organizers for opening spaces to discuss these issues, and for including the voices of children and youth in these conversations. We look forward to continuing working together and exchanging ideas and knowledge to advance children's participation, and freedom of thought, conscience, and religion.
The full webinar is available in Spanish, here.