GNRC Latin America and the Caribbean organized its first Ethics Education workshop in Cuba. With an impressive view to the Bahía de Matanzas and the participation of a diverse group of adults and youth of different religious communities, the Ethics Education Workshop on the "Learning to Live Together" took place at the Evangelical Seminary of Theology. Around 43 adults and 17 children from different cultural centres of Matanzas city enriched the workshop with their contributions, life experiences and artistic talents.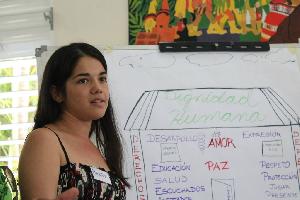 The workshop focused on the challenge of practical unity and coordination between the different religious expressions to work in favour of Ethics Education programs for children and youth that could help support the rich tradition of solidarity and social advances in Cuba. Through playful activities and the different methodological strategies proposed in the Learning to Live Together manual, the participants had the opportunity to have a firsthand experience on the richness of religious traditions, life experiences of youth engaged in artistic projects non related to religious experiences, and the background of a group of children working in the development of programs of art and entertainment.
The Evangelical Seminary of Theology made available its premises, personnel. The objective of the workshop was to promote a culture of peace and responsible positive citizenship among children and youth as a way to support the prevention of violence in families, schools and in the community.
The institutions participating in the workshop included religious organizations, specialized centres for ecumenical action and organized groups of children and youth.
The workshop presented a great opportunity to learn about the different religious traditions of the participants, engage in interreligious dialogue and reflect about each one's spirituality through prayer and sharing.
The workshop was facilitated by: Mercedes Román (GNRC Latin America and the Caribbean), Mónica Bernal (GNRC Ecuador), Larry José Madrigal (Centro Las Casas – GNRC El Salvador), Greta Montoya, Rolando Verdecia y Liudmila González, from the Evangelic Seminary of Theology, and counted with the invaluable local coordination of Ofelia Ortega, teacher at the Seminary.
This workshop is part of the GNRC's efforts to train groups of facilitators in Ethics Education for the countries in the region, encouraging also the celebration of the International Day of Prayer and Action for Children, in the framework of the International Convention on the Rights of the Child. The workshop was sponsored by Arigatou International. Centro Bartolomé de las Casas strongly supports the work of the GNRC, being one of its founding members in El Salvador.
For more information, please visit http://lac.gnrc.net/news/es_ES/2013/07/18/0001/cuba-primer-taller-de-educacion-etica-en-cuba-da-frutos-inmediatos