Since 2011, the Learning to Live Together (LTLT) Programme has been making headway in Bosnia and Herzegovina under the leadership of Ms. Ismeta Salihspahić, local GNRC Coordinator, and one of the main advocators of the Programme in the country. In the past couple of years, the Programme has reached more than 400 students annually, in six different schools, fostering solidarity and mutual understanding among children from different religious, ethnic and cultural backgrounds.
Two decades after the end of a long-lasting violent conflict, Ms. Salihspahić understands the importance of values-based education as a driving force to bring about interfaith and intercultural cooperation and learning in a country where segregation continues to be part of the every-day life.
One example of the residues of the conflict is "Two schools under one roof", a system where children from different ethnic groups attend the same school building but have different curricula, use a similar but different term language and even attend school at different schedules, or use separated stairways and facilities. In such a system, children receive contrasting kinds of education. These practices, still present at some schools, instill division and ethnic prejudice, and hinder reconciliation.
It is in this context that Ms. Salihspahić has been working to generate dialogue and understanding within the educational system. A mother of three sons, Ms. Salihspahić can grasp the urgency of addressing the issues of violence and segregation to improve the lives of children in the country and contribute to a peaceful future.
Ms. Salihspahić is originally from Veliko Čajnu, Visoko, Bosnia and Herzegovina. She is a professor of Islamic sciences and a professor of pedagogy. She worked as a muallima (Arabic for teacher) at the Medžlis Islamic community in Gračanica, and as a professor in the Islamic high school "Osman ef. Redžović". She is currently a pedagogue at the Musa Ćazim Ćatić primary school in Veliko Čajno. She is also among the first generation of students of a Master's degree in "Inter-religious Dialogue and Peace Building", and she is the President of the Mozaik Women's Association for Interreligious Dialogue in Family and Society in Veliko Čajno.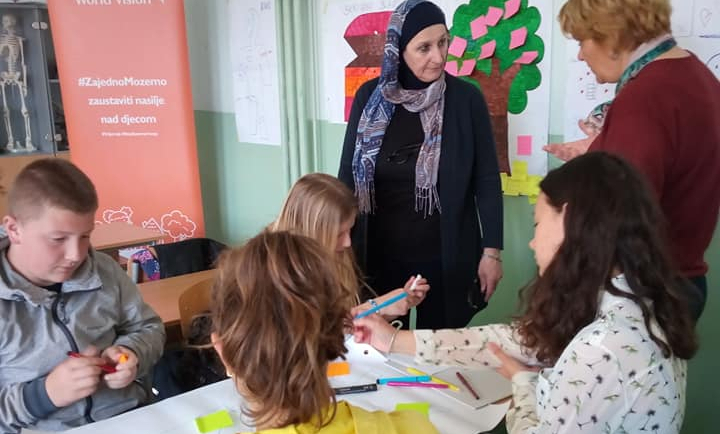 1- Tell us about your journey with Learning to Live Together.
Through my community activism, I had the opportunity to meet many people whose work aligns closely with my own values. In 2012 I was invited to a one-day seminar in Sarajevo where I met Marta Palma, GNRC Coordinator for Europe at the time, who introduced us to the LTLT Programme. The principles and themes of the Programme were very close to my values, so I decided to get further acquainted with it, as well as with the topic of ethics education for children.
In 2012, I attended a basic workshop on the LTLT, followed by an advanced workshop. Two years later, I organized a regional basic workshop and advanced training on the LTLT for members of the GNRC from Serbia, Spain, Portugal, Montenegro, Romania, Moldova, and Croatia, and teachers from Bosnia and Herzegovina.
I used the LTLT in workshops with children to mark important dates, such as 21 September, the International Day of Peace; 17 October, the International Day for the Eradication of Poverty, and 20 November, the Day of Prayer and Action for Children. This helped promote ethics education in the schools and drew teachers' attention to the use of the LTLT Programme with children.
In September 2018, in cooperation with Arigatou International Geneva, we organized a Facilitator Training Workshop on the LTLT for 22 participants, including teachers, community activists, representatives of the non-governmental sector, religious communities, and youth. We intended to create a network of people who would use the LTLT methodology in their work.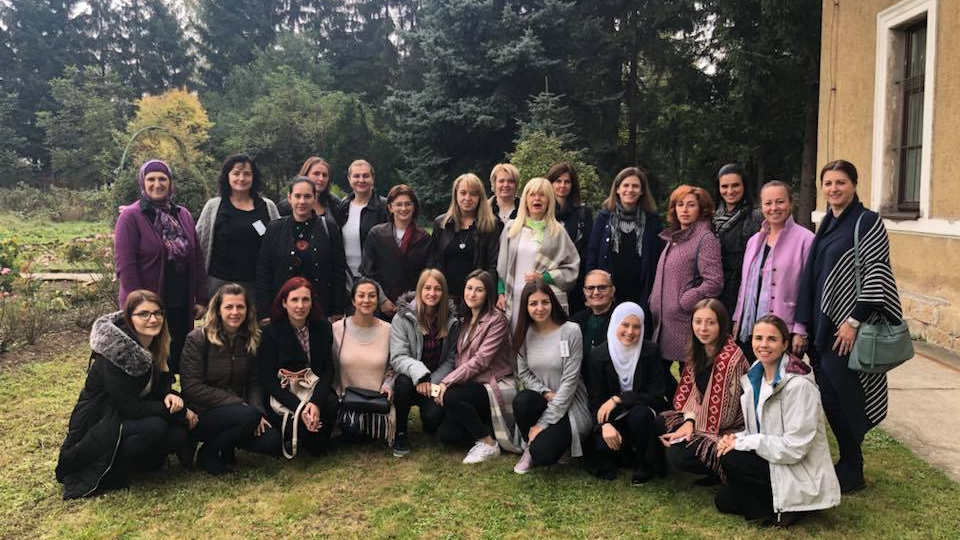 Learning to Live Together Facilitator Training Workshop in Sarajevo (2018)
2- What do you think were the main learnings from participants?
The participants form this training workshop were from different organizations and were formally or informally working with children. It was interesting to note that, regardless of the organization from which they came, the participants wanted to master the LTLT methodology. One of the strengths of the training was the exchange of experiences through workshops and through discussing the topic of ethics education.
Educators mentioned bullying, peer-to-peer pressure, and violence in the family as a child-rearing practice, and growing in a post-conflict society influencing how children interact with each other, as some of the main challenges faced by society.
3- What other issues are you trying to tackle by introducing the LTLT in B&H?
We want to contribute to reducing violence among children, and to promote the recognition that our differences can be used as a resource for joint action and can help to improve our children's development.
4- How is LTLT a valuable tool for teachers and what do you think can be the benefit of introducing it in schools?
The LTLT Programme is a very valuable tool for teachers who work with children because it helps children become acquainted with their qualities and strengths, to understand differences as an advantage in building relationships and supporting each other to overcome obstacles. It helps teachers to strengthen their confidence in students and encourages them to participate actively in their work.
The Programme has a very strong peace dimension which, in the period of growing up, is important for overcoming negative emotions when one may have different values and views from other people. The LTLT has clearly defined goals that guide students in the development of a positive personality.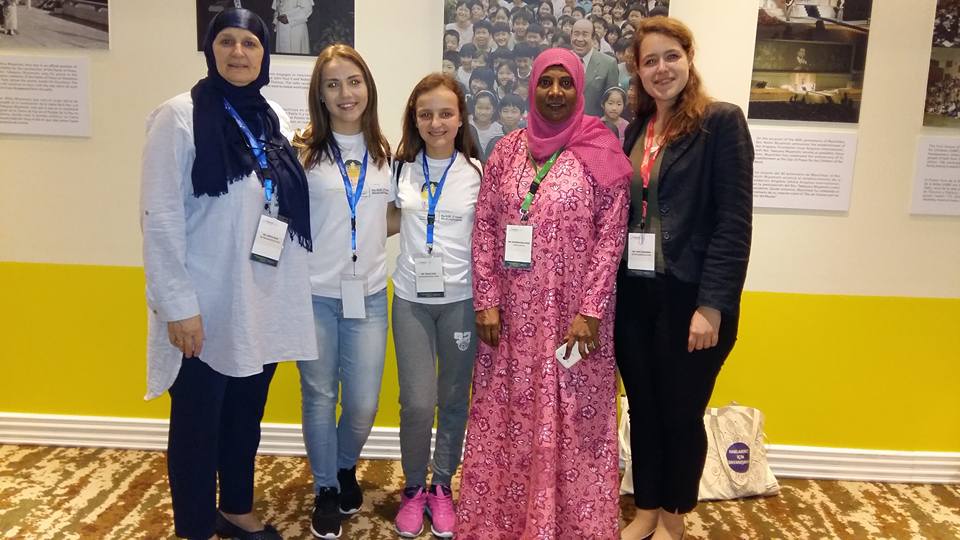 Ms. Salihspahić, at the GNRC Fifth Forum in Panama, together with two children from the GNRC, and Ms. Saydoon Nisa Sayed, and Ms. Amina Zvonimira Jakic, both LTLT Trainers from South Africa and Bosnia and Herzegovina.
Ms. Salihspahić and her colleagues have made child participation a priority, fostering critical thinking and leadership skills among their students, obtaining remarkable results.
After implementing the Programme with children, some of them were invited to participate in a Facilitator Training Workshop, along with teachers, psychologists, and sociologists, to be equipped to carry out ethics education programs with children. This is the case of Asja and Lamija, two youth leaders from Mozaik who have been very active in carrying out LTLT activities with other children. Furthermore, they have participated in various activities organized by Arigatou International and the GNRC.
Since becoming a facilitator of the LTLT back in 2018, Asja (17) has participated in different activities organized by Arigatou International related to ethics education and interfaith collaboration. These include the World Day for Prayer and Action, and the Global Campaign "Faith in Action for Children," in which she sends a message to support children and youth during the Covid-19 Pandemic. She has also implemented the Programme with children.
"It is an honor for me to be able to help children in any way possible and to protect children's rights, because if young people like me can do anything to promote good, then it is to help the once that may change the world one day, but together!" stated Asja.
Lamija (19), also participated in "Faith in Action for Children," by sending a video message. Before that, she was invited to Geneva, Switzerland to deliver a speech at the launch of "Faith and Children's Rights: A Multi-religious Study on the Convention on the Rights of the Child." In her speech, she provided recommendations to bring the Study into action, and identified ways to strengthen interfaith collaborations in her community, particularly between Muslims and Christians, as part of the efforts of building cohesion in societies after the conflict.
"This study can help us to connect with our religious leaders. It encourages us to advocate for our rights in our schools, to raise awareness through workshops -for example- and to report when our rights are violated. It helps us to know that we are not alone in all of this and that we have someone to rely on", said Lamija.
We thank Ms. Salihspahić for conceding us this interview, and for her outstanding leadership in promoting quality education for children and youth with the support of GNRC and the Mozaik Women's Association for Interreligious Dialogue in Family and Society in Veliko Čajno. Her efforts have made a difference in the lives of many children in her country, and her work is an active contribution to bring about peace.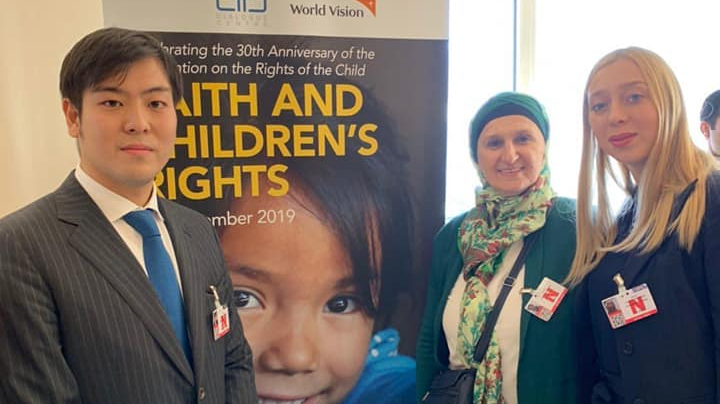 Mr. Hironari Miyamoto, Manager of Headquarters Operations at Arigatou International, together with Ms. Ismeta Salihspahić and Ms. Lamija Hasimovic, at the launch of Faith and Children's Rights: A Multi-religious Study on the Convention on the Rights of the Child, in Geneva, Switzerland.