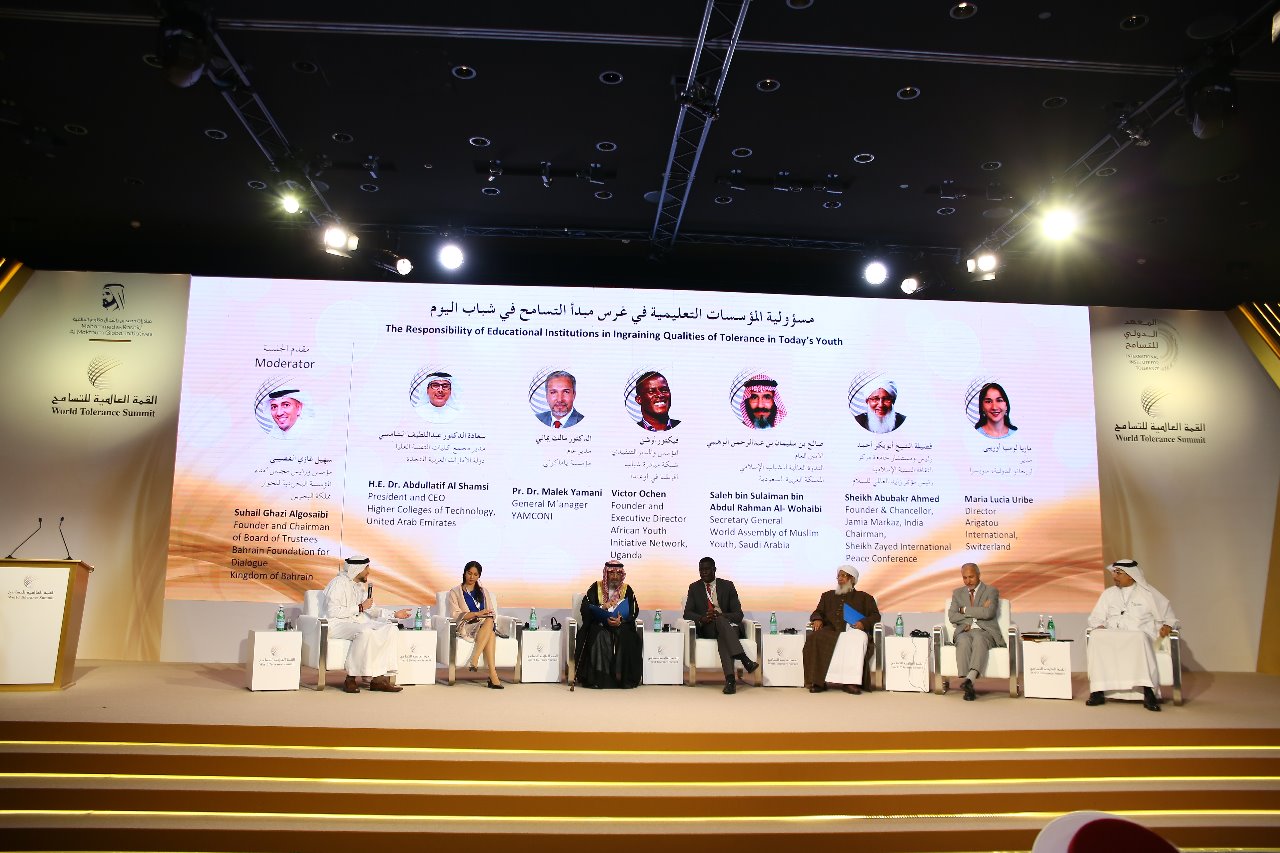 "Education cannot any longer compartmentalize learning spaces based on socio-economic status, religion, learning abilities or even gender, as these are the very factors that divide and create fear of the other in societies", said Ms. Maria Lucia Uribe, Director of Arigatou International Geneva, at the World Tolerance Summit held in Dubai from 15 to 16 November 2018.
The World Tolerance Summit is the biggest gathering of government leaders, key figures from the public and private sectors, peacekeeping ambassadors and change-makers from around the world who aim to discuss the great importance of tolerance, peace, equality, and to celebrate diversity amongst people from all walks of life, regardless of varying political views, cultural and religious backgrounds.
Ms.Uribe spoke on the panel of Responsibility of Educational Institutions in ingraining qualities of tolerance in today's youth, together with H.E. Dr. Abdullatif Al Shamsi, Pr. Dr. Malek Yamani, Mr.Victor Ochen, Saleh bin Sulaiman bin Abdul Rahman Al- Wohaibi, and Sheikh Abubakr Ahmed. The panel was moderated by Suhail Ghazi Algosaibi, Founder and Chairman of Board of Trustees Bahrain Foundation for Dialogue – Kingdom of Bahrain.
During her intervention, Ms. Uribe challenged education systems to respond to the ethical challenges of societies, to create more spaces for children and youth, and to reinvent and reimagine themselves. She emphasized the importance of education to foster respect for people of different cultures and beliefs, to create dialogue and encounter, and to nurture a spirituality that embraces the other.
Ms. Uribe called upon the responsibility of religious communities and leaders to be self-critical, foster a spirit of pluralism and support education in formal and non-formal settings to create spaces for children and youth to participate, develop their own identities, and transform themselves and their communities. She also spoke about the role of education in challenging populism and violent ideologies by looking at the factors that lead youth to adhere to those ideologies and become more responsive and aware of the needs of children and youth.
The 2-day interactive summit engaged the participants in thought-provoking discussions on how technology, social innovations, and global networking can play an important role in creating a conducive environment to bring about positive change in people's lives.
"We are united in our respect for each other. We recognize the human values that we all treasure. In our tolerance lies our strength." His Excellency Sheikh Nahayan Mabarak Al Nahyan, UAE Minister of Tolerance
The Opening ceremony included Shaikh Mohammad Bin Rashid Al Maktoum, Vice President and Prime Minister of the United Arab Emirates, and Ruler of the Emirate of Dubai; Shaikh Hamdan Bin Mohammed Bin Rashid Al Maktoum, Dubai Crown Prince and Chairman of the Executive Council; Sheikh Narayan, Minister of Tolerance; Dr Amal Al Qubaisi, Speaker of Federal National Council, and Princess Lamia.
The Summit was held in line with the International Day for Tolerance, as declared by the United Nations.