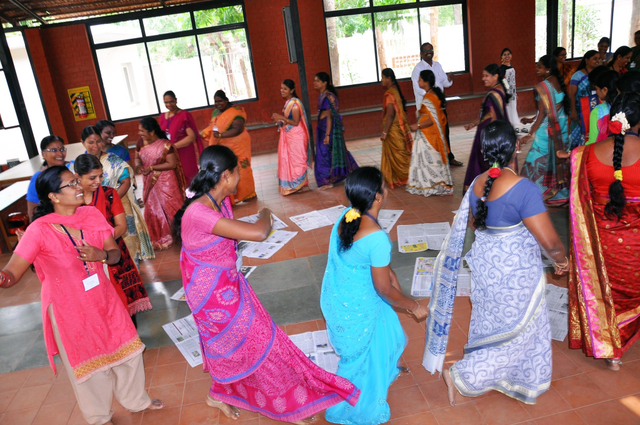 A Basic Training Workshop on the Learning to Live Together (LTLT) Programme was conducted in Coimbatore, India from 19 to 20 March 2018 by Shanti Ashram, bringing together 34 teachers from 17 institutions.
The two-day workshop aimed at reflecting on the needs of the children and understanding their connection to the conceptual basis of the LTLT Programme, as well as assessing the importance of learning to live together in their own contexts; reflecting and exploring the Programme's educational approach and learning modules, as well as identifying how to implement the Programme for the targeted students in their respective schools.
The workshop was led by five facilitators, three of them being international trainers who introduced the key values of the Programme together with the Ethics Education Approach. All participants who attended the workshop were teachers who taught children from kindergarten to higher secondary classes. Teachers were especially enthusiastic about the practical guidance and hands-on learning approaches of the workshop.
"The opportunity to work with school teachers from various institutions was a new learning experience for me. I found that they were easily able to visualize each and every concept-based activity that took place during the sessions and were optimistic in implementing them in their schools," said Mr. Vijayaragavan Gopal, LTLT Trainer.
During the workshop, the teachers were introduced to Arigatou International's Educational Framework and explored the different methodologies proposed by the Programme through activities and reflections which helped enhance their teaching knowledge and skills. At the field visit to Bala Shanti Kendra, a school at Arivoli Nagar, they had the opportunity to witness the implementation of the Programme and to experienced it first hand.
"Working with teachers is always a pleasure as they are already primed for this work. For me, as a trainer, the challenge was in letting go of my prejudices about teachers and to focus on listening to what they were saying and showing me," stated Ms. Pavithra Rajagopalan, LTLT Trainer.
It is expected that at least 15 teachers implement the Programme in their own classrooms. The creation of a Community of Practice is also anticipated.
"It was a great privilege for me to attend the program. Surely I will implement all the techniques taught to us," said Ms. Benilda, Evangeline Matric Higher Secondary School
We thank Dr. Aram, President of Shanti Ashram, for organizing the workshop and the team of trainers Ms. Balaguruswamy, Mr. Gopal, Dr. Kartikeyan, and Ms. Rajagopalan for leading the workshop.