GNRC El Salvador is organizing an Ethics Education workshop on Learning to Live Together, focused on the training of ethics education and education for peace for leaders of religious institutions, government and non-governmental organizations working with education programs and child rights in El Salvador.
The workshop will take place from 19 to 23 January 2014, in a beautiful house outside the city of Santa Tecla and will be attended by young people and adults who will gather to learn by doing in an environment of respect, empathy, reconciliation and creativity. An international facilitators team will be in charge of this intensive training experience.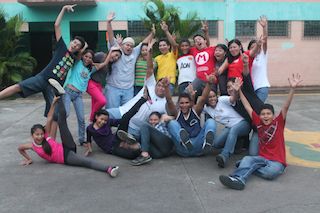 The diversity of participants makes this workshop unique. Participants will come from several zones of the interior of the country with a wide range of experiene working in value-based education, ethics education, education for peace and violence prevention. They also come from various religious traditions such as Bahá'í, Budhism, Christianity, Spiritism, among others, and many of them work with government and non-governmental organizations focused on children and youth. They will all learn together by using several methodological techniques such as the Theater of the Oppressed, cooperative games, introspection exercises, biodance, and through interreligious and intergenerational dialogue. A selection process will be in place accompanied by preparatory, implementation, monitoring and follow up support after the workshop.
According to the United Nations, El Salvador faces one of the most difficult scenarios of violence among children and youth in the Latin American continent, particularly in public schools and popular urban and semi-rural zones. "The Salvadorian children continue being victims of violence in the community and within the families; in the case of men, many are proned to the manipulation of gangs or to be victims of homicide, among other dangers". (Special Representative to the United Nations Secretary General on Violence Against Children, Marta Santos Pais, June 2013)
GNRC El Salvador cooperated in 2007 in the piloting process that led to the development of the Learning to Live Together manual, that has been successfully implemented in several Latin American and Caribbean countries, and other parts of the world. The manual was developed by the Interfaith Council on Ethics Education for Children of Arigatou International in close cooperation with UNESCO and UNICEF. This workshop is possible thanks to Arigatou International and its Ethis Education Initiative (Geneva), the Centro San Bartolome de las Casas (San Salvador), and the different institutions that are part of the GNRC El Salvador and the Latin American and the Caribbean Network.