Transforming Education: Ethics Education for Learning to Live Together
Format: Opening ceremony moderated by children from Chile and India
Date: Monday, 22 November 2021
Time: 12:30-13:30 CET
Languages: English, with Arabic, French and Spanish
Objectives:
To share reflections on the relevance of Ethics Education as a contribution to learning to live together and collaboration around common issues of concern among peoples of different cultures and faiths, the critical role that ethics education has in today's world in fostering common values, critical thinking and joint actions in children, and its contribution to sustainable development and peace building.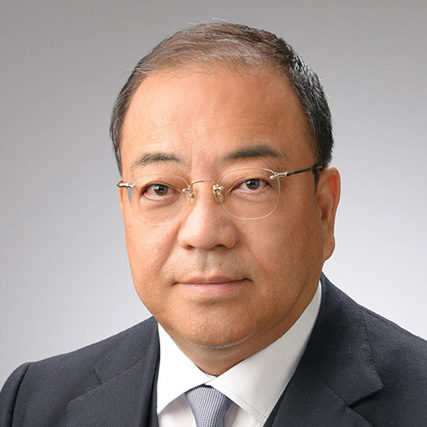 President, Arigatou International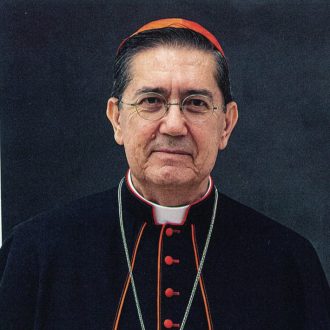 His Eminence Cardinal Miguel Angel Ayuso Guixot
President Pontifical Council for Interreligious Dialogue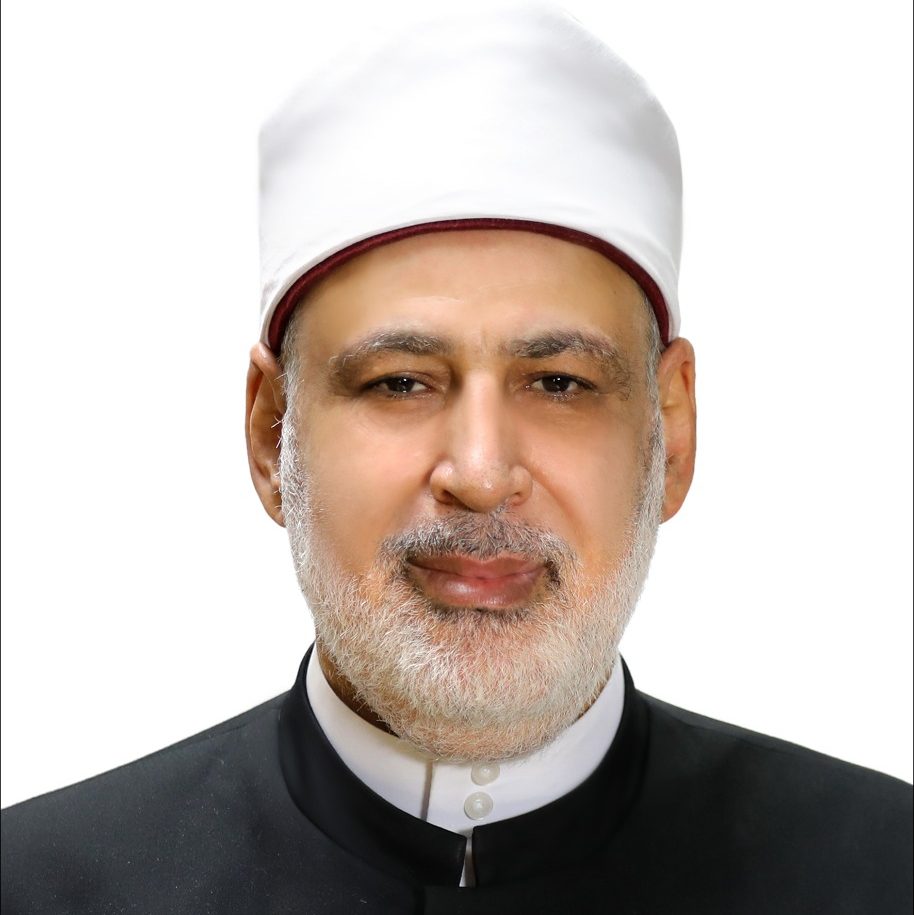 His Eminence Dr. Muhammad Abdur-Rahman Muhammad Ad-Duwini
Al-Azhar Grand Imam's Deputy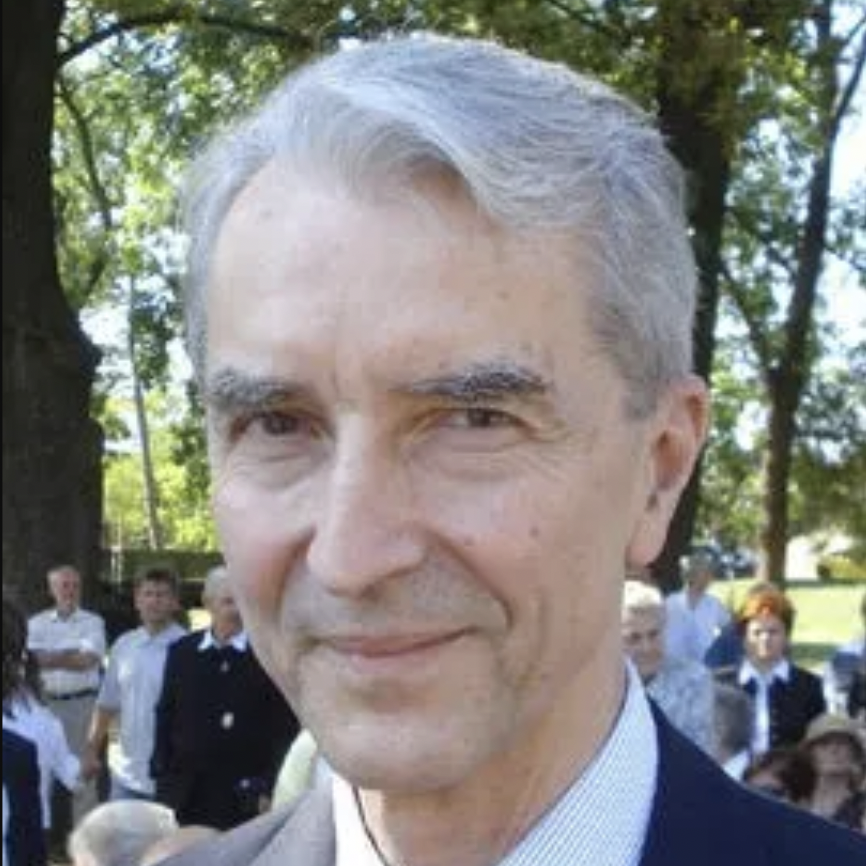 Chairman, Guerrand-Hermès Foundation for Peace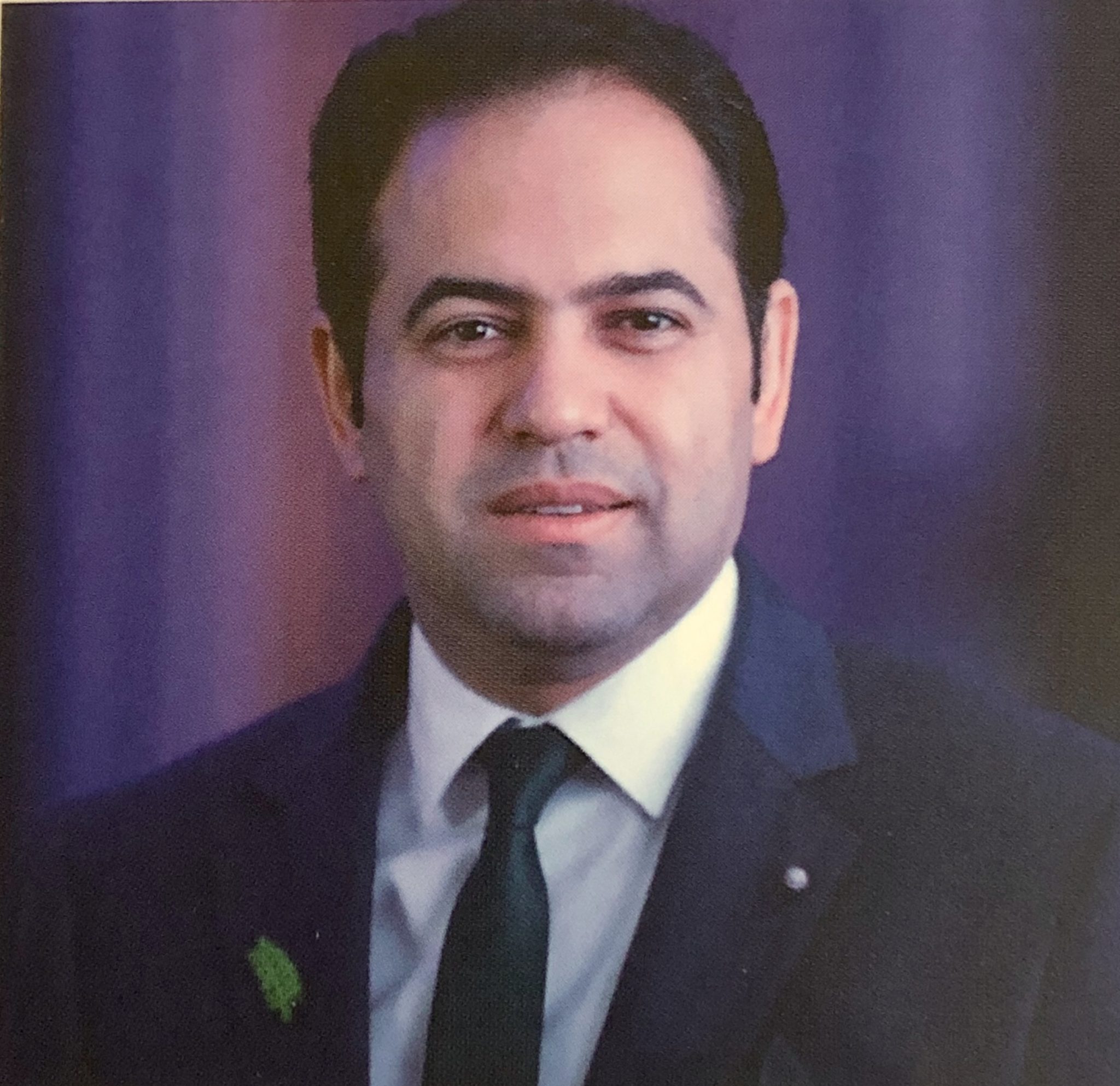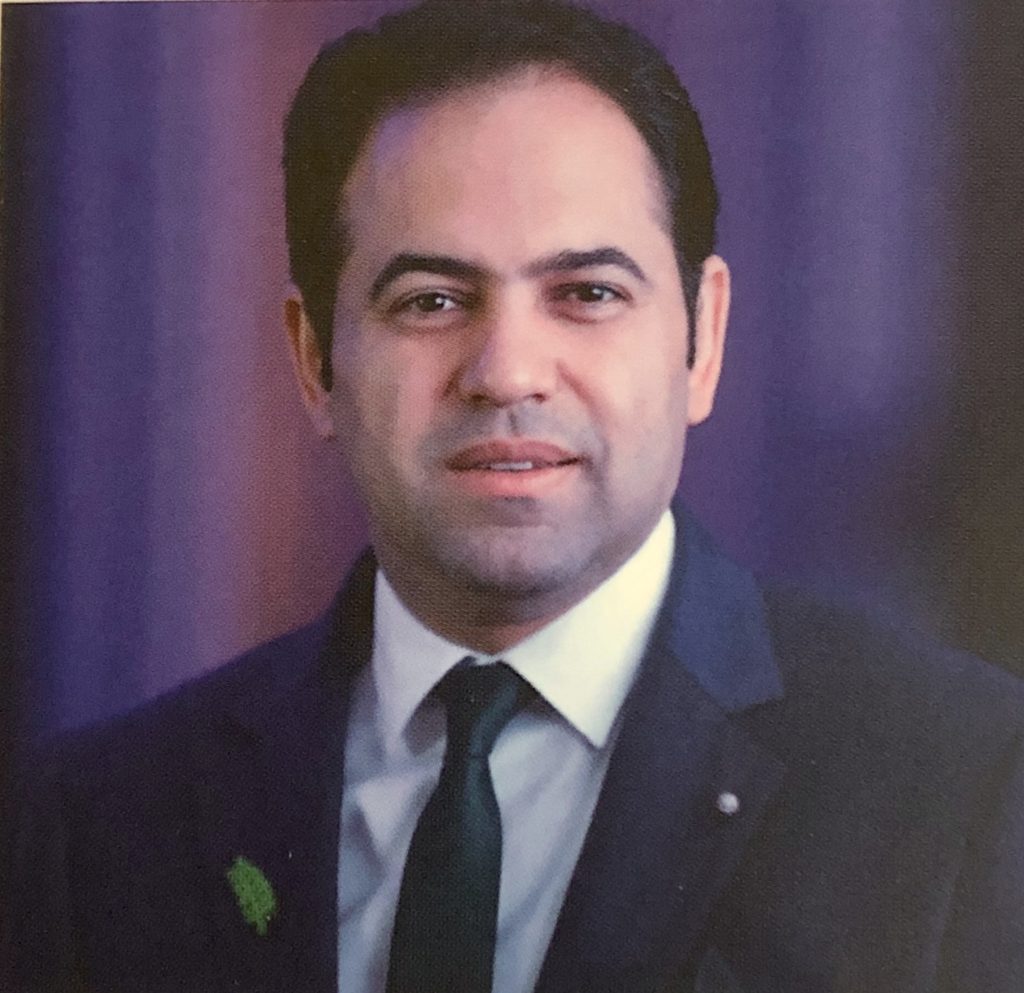 Secretary General, Higher Committee for Human Fraternity
Reverend Keishi Miyamoto
Rev. Keishi Miyamoto is the Spiritual Director of Myochikai, a Buddhist organization in Japan. He is also President of Arigatou International, which was established by Myochikai. His work through Arigatou International, which is focused on building a world where all children can grow up safe and sound, aims to contribute to world peace, the ultimate goal of Myochikai. Rev. Miyamoto inherited his spiritual lineage as a religious leader from his late father, Rev. Takeyasu Miyamoto, the former president of Arigatou International, who extended Arigatou's work by engaging world religious leaders of all major traditions to inaugurate the Global Network of Religions for Children (GNRC) in the year 2000.
Under Rev. Keishi Miyamoto's leadership, the GNRC has continued to grow as a platform for interfaith cooperation for children, and three other global initiatives have been launched. In 2004, Arigatou began promoting Ethics Education for Children, and later published, with UNICEF and UNESCO, Learning to Live Together: An Intercultural and Interfaith Programme for Ethics Education. In 2008, Arigatou International launched a global movement of Prayer and Action for Children, and in 2012, the Interfaith Initiative to End Child Poverty.
Rev. Miyamoto was the 5th Secretary General of WCRP Japan. He was appointed by the WCRP Japanese Committee in 2007, which tasked him with implementing the Kyoto Declaration adopted in 2006 at the 8th World Assembly of Religions for Peace, which he helped to successfully organize as Secretary General of the WCRP VIII Japanese Secretariat.
Rev. Miyamoto also serves as International Trustee of Religions for Peace and as Board Member of the Global Partnership to End Violence Against Children, as well as Executive Board Member of the Federation of New Religious Organizations of Japan (Shinshuren), Council Member of the Japanese Association of Religious Organizations (Nishuren), and Council Member of the WCRP Japan.
His Eminence Cardinal Miguel Angel Ayuso Guixot
Cardinal Miguel Ángel Ayuso Guixot, was born in Seville, Spain, on 17 June 1952. After joining the Comboni Missionaries Catholic Institute, he was ordained a priest in 1980. From 1982 to 2002, he served as a missionary in Egypt and Sudan. In 1982, he obtained a licentiate in Arabic and Islamic Studies, from the Pontifical Institute for Arabic and Islamic Studies (PISAI) and from 1983, he taught Islamology and Interreligious Dialogue while in Khartoum, in Cairo and thereafter at the PISAI in Rome.
From 2005 to 2012, he was Director of the same PISAI, until His Holiness Pope Benedict XVI appointed him as the Secretary of the Pontifical Council for Interreligious Dialogue (PCID) on 30 June 2012.
On 19 March 2016 he received the episcopal consecration by His Holiness Pope Francis in St. Peter's Basilica in Rome. On 25 May 2019 he was nominated as President of the Pontifical Council for Interreligious Dialogue by Pope Francis.
On October 5, 2019, Cardinal Ayuso Guixot was appointed Cardinal deacon in the consistory and received the red biretta and the deaconry of Saint San Girolamo della Carità in via Giulia (Rome).
Dr. Muhammad Abdur-Rahman Muhammad Ad-Duwini
Dr. Muhammad Abdur-Rahman Muhammad Ad-Duwini is the Deputy of the Grand Imam of Al-Azhar and a Member of Al-Azhar Senior Scholars' Authority. He has published several academic research papers and books and has held several academic positions during his career. He holds a B.A. Degree in Sharia and Law (1990), a M.A. Degree in Comparative Islamic Jurisprudence (1995), and a Ph.D. in Comparative Islamic Jurisprudence, with First Honors, from the Faculty of Sharia and Law, Al-Azhar University, Cairo (1998).
Mr. Sharif Horthy
Mr. Sharif Horthy is the Co-Founder and Chairman of the Guerrand-Hermès Foundation for Peace Board of Trustees. He was born in Hungary, and is the grandson of Admiral Horthy (Regent of Hungary 1920-1944).
Sharif studied physics at Oxford University and civil engineering at Imperial College. At 25, he embraced Islam. He has worked as a civil engineer and business consultant in Britain, Indonesia and the USA.
Sharif is currently living in the UK. He was also on the advisory board of the Three Faiths Forum, and is a Trustee of the Museum of World Religions (UK), and the Chair of the Trustees of Lewes New School.
Judge Mohamed Abdelsalam
Judge Mohamed Abdelsalam is the Secretary-General of the Higher Committee on Human Fraternity and a judge at the State Council of Egypt.
Judge Abdelsalam served as the former advisor to the Grand Imam of Egypt's Al-Azhar Dr. Ahmed Al Tayeb for over eight years and assisted in drafting the Document on Human Fraternity signed by the Grand Imam and Pope Francis in Abu Dhabi in February 2019. The same year, Pope Francis awarded Judge Abdelsalam the Order of Pope Pius IX Knight Commander for his services towards spreading tolerance and interfaith dialogue. He is the first Egyptian, Arab, and Muslim to be awarded this accolade.
Judge Abdelsalam represented Al-Azhar, the chief center of Islamic and Arabic learning in the world, in the constitutional assembly charged with drafting a new constitution for Egypt and participated in drafting Al-Azhar documents from 2011-2018. The Supreme Constitutional Court of Egypt awarded him the Medal of the Constitutional Court in recognition of his distinguished representation of the Egyptian judiciary during his time at Al-Azhar and the Constitutional Assembly.
The Ministry of Interior of the United Arab Emirates awarded Judge Abdesalam the Community Service Medal for his commitment and positive impact towards strengthening security in communities.
A graduate of Al-Azhar University, Judge Abdelsalam is a member of the executive office of the Muslim Council of Elders and a member of the Al-Azhar Center for Interreligious Dialogue.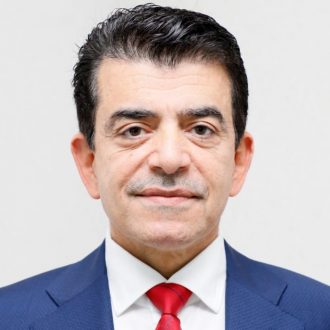 Director-General, Islamic World Educational, Scientific and Cultural Organization (ICESCO)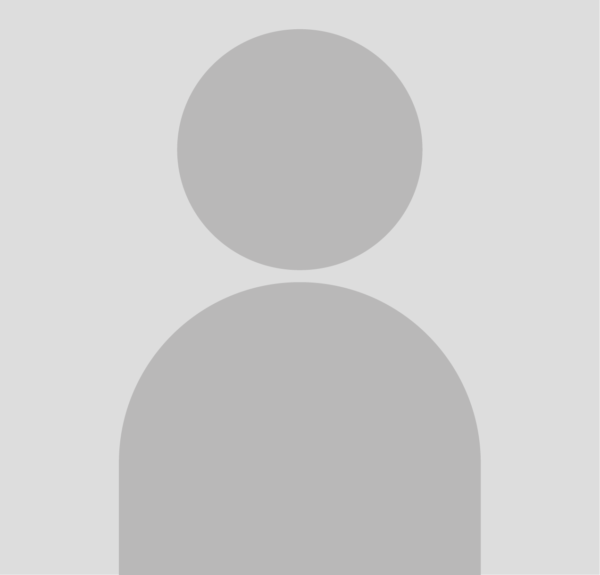 Interim Deputy Secretary General, KAICIID International Dialogue Centre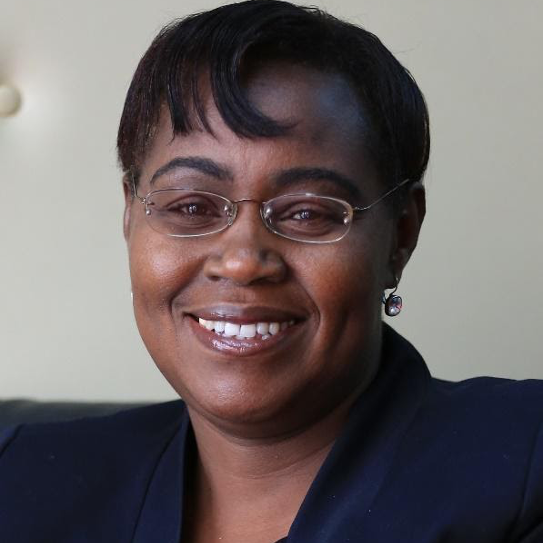 Secretary General, Kenya National Commission for UNESCO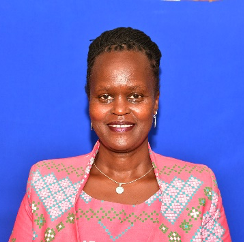 Chief Administrative Secretary, Ministry of Education Kenya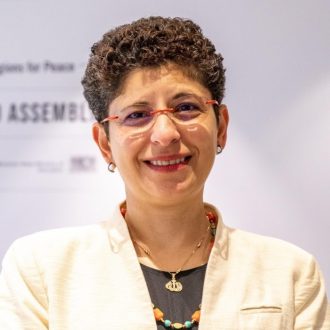 Secretary-General, Religions for Peace
Dr. Salim M. Almalik
Prior to being appointed as the Director General of ICESCO, Dr. Al Malik was the Advisor and General Director of International Affairs at the Ministry of Education (MOE), the Advisor on Health Affairs to the Minister of Education in Saudi Arabia, the Secretary-General of the Saudi National Commission for Education, Science and Culture, and a consultant on allergy and immunology for the King Abdulaziz Medical City (formerly the National Guard Hospital). He also headed the knowledge-based industries sector at the Saudi Arabian General Investment Authority (SAGIA), where he led the development of its knowledge-based industry strategies.
He previously held the position of Deputy Executive Director of Medical Services (Medical Director) for the National Guard Health Affairs, Central Region. Furthermore, Dr. Al Malik is an expert in building strategic partnerships with international organizations and worked in developing national initiatives in the fields of education, culture, and health.
Dr. Al Malik co-developed the first conceptual building blocks and fundamental plan for King Abdullah University for Science and Technology (KAUST), an instrumental contribution to the modernization of higher education in Saudi Arabia. He also worked as a consultant at ARAMCO, KAUST, and King Saud University, and was actively involved in developing the National Innovation Ecosystem at King Abdulaziz City for Science and Technology (KACST), and establishing international advisory boards for several Saudi universities.
He holds a Master's degree from the Health Policy and Management Program at Harvard University, Administrative Fellowship Certificate as a physician executive, and a diploma in healthcare management from the American College of Physician Executives. Dr. Al Malik was a board member of the Saudi Red Crescent Society, Al-Aghar Group, and many international institutions. He also worked as an advisor to the World Health Organization, the Joint Commission International (JCI), and, briefly, to several international healthcare organizations. Dr. Almalik authored 7 books and is also a well-known poet admired for his beautiful poetries written over the years.
Ms. Elham Alshejni
Ms. Elham Alshejni currently serves as the Interim Deputy Secretary General of KAICIID. In building her public service career, Ms. Alshejni has served in key positions in the Arab region.
She joined the League of Arab States in 1991 where she was involved in a wide range of issues from multilateral affairs, disarmament, regional security, partnership with civil society, gender integration and her last post was Director of the Human Rights Department at the League. During her time at the League of Arab States she also participated in a number of fact-finding missions in Sudan, Gaza, Bahrain and as an observer mission to Syria.
Ms. Alshejni joined KAICIID in October 2016 serving as the Director of Executive Management, where she had oversight over a range of corporate issues including decision-making, information dissemination, accountability, organizational development and learning.
Ms. Elham Alshejni holds a Bachelor of Arts in Business Administration from John Cabot University in Italy, a Master's degree in Public Administration from the American University of Cairo and is currently working on her second master's degree from Leicester University on the Politics of Conflict and Violence.
Dr. Evangeline Njoka
Dr. Evangeline Njoka, MBS is the Secretary General/CEO of the Kenya National Commission for UNESCO (KNATCOM), a State Corporation under the Ministry of Education. KNATCOM is the focal point for all UNESCO matters in the Country.
Dr. Njoka is an educationist who previously taught for 17 years in secondary schools including being a Principal for 5 years in two girls' secondary schools in Embu County. Thereafter she joined KICD (former KIE) in 2004 and later the Ministry of Education Headquarters before joining KNATCOM in 2008.
Dr. Njoka holds strong professional and academic qualifications that include a Doctorate Degree in Education from University of Durham, UK; a Master's Degree in Education Management and Planning from University of Nairobi; a Post Graduate Diploma in Education from Catholic University of Eastern Africa, and a Bachelor of Science (Honours) degree from University of Nairobi.
She possesses strong skills in research and has undertaken quite a number of studies in education. Dr. Njoka has published and presented many papers in education nationally, regionally and internationally. She is a strong advocate for quality education as a right for all irrespective of any natural or man-made differences.
Dr. Sarah Ruto
Chief Administrative Secretary, Ministry of Education Kenya
Dr. Ruto recently joined the Ministry of Education as the Chief Administrative Secretary. Her career in the field of education and research spans over 30 years. She has experience in managing large scale multi-country programs whose evidence has impacted national and international policies with respect to reading and numeracy. Sara has actively participated in global education and used evidence to back the need for competency and outcomes based education. She has published widely in academic journals, chapters and blogs as an avenue of framing educational trends and infusing a global south perspective.
From 1990, Sara served in different levels: as a teacher, a tutor and a lecturer at Kenyatta University. An ardent researcher, she joined and later became the Chairperson of the Women Educational Researchers of Kenya -an organization whose mission was to link research to advocacy and action. Dr. Ruto received her university education at Kenyatta University and Heidelberg University. She has also served in many boards and advisory committees nationally and internationally. She champions and advocates for Girls Education, Education for the marginalized and improving learning outcomes for the furthest behind.
Prof. Dr. Azza Karam
Prof. Dr. Azza Karam serves as the Secretary-General of Religions for Peace – the largest multi-religious leadership platform with 92 national and 6 regional Interreligious Councils. She also holds a Professorship of Religion and Development at the Vrije Universiteit in Amsterdam, in The Netherlands – of which she is a citizen.
She served as a Senior Advisor on Culture, at the United Nations Population Fund (UNFPA); and as Coordinator/Chair of the United Nations Inter-Agency Task Force on Religion and Development (UN IATF-R&D); and founder of the Multi-Faith Advisory Council of the UN IATF-R&D. In those capacities, she coordinated engagement with members of a Global Interfaith Network for Population and Development with over 600 faith-based organizations from all regions of the world, representing all religions and interreligious affiliations. She was the Lead Facilitator for the United Nations' Strategic Learning Exchanges on Religion, Development, and Diplomacy, building on a legacy of serving as a trainer cum-facilitator of intercultural leadership and management in the Arab region as well as Europe and Central Asia.
Professor Karam has served in different positions in the United Nations since 2004, as well as other intergovernmental and non-governmental organizations since the early 1990s, such as International IDEA, OSCE, and Religions for Peace. Simultaneously, she lectured in various academic institutions in Europe, North America (including the United States Military Academy/West Point), Africa, and the Middle East.
Her Ph.D. in 1996, focused on Political Islam and became her first book in Arabic (her mother tongue) and in English. She has since published widely, and in several languages, on international political dynamics, including democratization, human rights, peace and security, gender, religious engagement, and sustainable development. She was born in Egypt and now lives in the United States.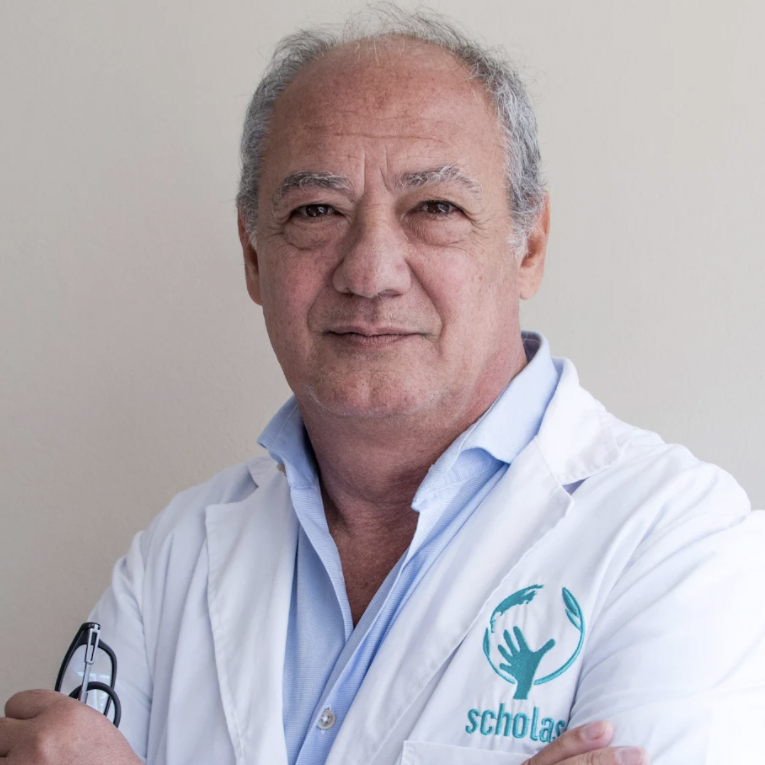 Mr. Jose Maria del Corral
President, Scholas Occurrentes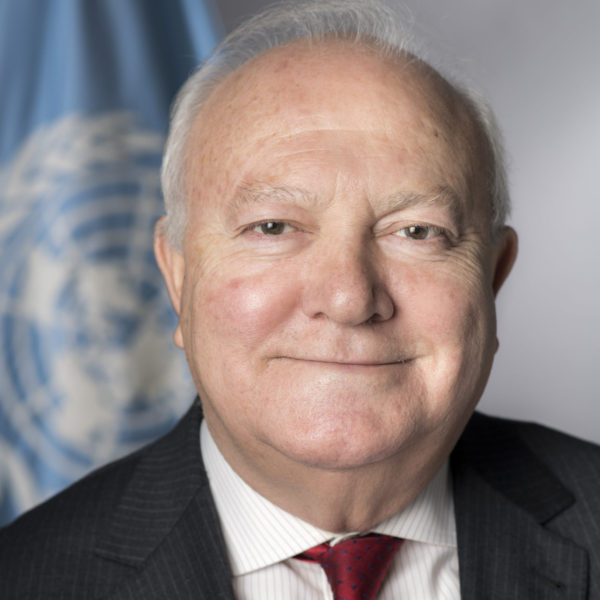 H.E. Mr. Miguel Ángel Moratinos
High Representative, United Nations Alliance of Civilizations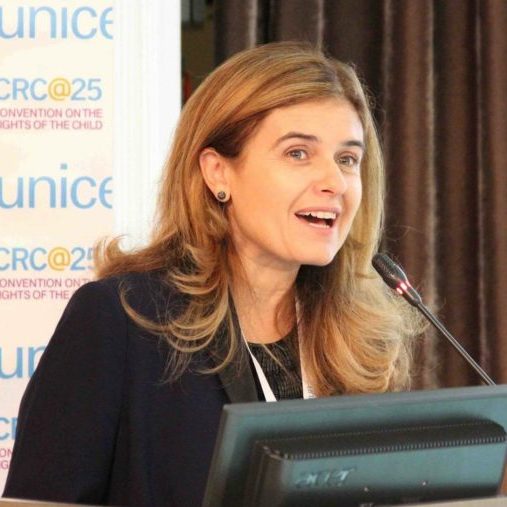 Director, Division of Global Communication and Advocacy, UNICEF
Mr. Jose Maria del Corral
Theologian and pedagogue, Jose Maria del Corral is currently the Global Director of Scholas Occurrentes, appointed by Pope Francis, with whom he has worked for more than thirty years.
Passionate about education, he was the founder of "Schools of Neighbours", a project that was born to transform education, redefining the concept of the classroom and achieving the integration of students of different faiths and social levels, both from public and private schools of the City of Buenos Aires with Archbishop Jorge Bergoglio.
In 2013, when Bergoglio was appointed as Pope, this project started to develop on a global scale and became the Pontifical Foundation Scholas Occurrentes. Today, Scholas is present through the educational network in 5 continents, integrating more than 400,000 educational institutions and reaching more than one million children and young people around the world through pedagogical programs carried out through sports, arts and technology.
H.E. Mr. Miguel Ángel Moratinos
H.E. Mr. Miguel Ángel Moratinos is the United Nations Under Secretary-General holding the post of High Representative for the United Nations Alliance of Civilizations (UNAOC) since January 2019 - present.
In February 2020, Mr. Moratinos was designated by the United Nations Secretary-General as the UN Focal Point to monitor Anti Semitism and enhance a system-wide-response. He carries out this portfolio in addition to his other responsibilities.
Mr. Moratinos has committed his professional and political career to international relations and development cooperation and peace and security notably as Minister of Foreign Affairs and Cooperation of Spain (2004-2010) and the European Union Special Representative for the Middle East Peace Process (1996-2003). During his tenure as Foreign Minister, Spain presided over the UN Security Council in 2004, held the chairmanships-in-office of the Organization for Security and Cooperation in Europe (OSCE), the Council of Europe and the Council of the European Union.
Mr. Moratinos has received numerous recognitions, including the League of Arab States Award in March 2019 from the Secretary-General of the organization, Mr. Ahmed Abulgheit, in recognition for his role in strengthening Arab-Spanish relations. He is also the recipient of honorary doctorates from the Universities of Saint-Petersburg, Malta, as well as Ben-Gurion, Al-Quds and Tel Aviv universities.
Ms. Paloma Escudero
Paloma Escudero was appointed Director of Global Communication and Advocacy at UNICEF in April 2013. Bringing her extensive experience and expertise in the areas of communications, fundraising, advocacy, and brand management, she oversees UNICEF's global public outreach and communications as its senior communication official.
Prior to the appointment, Ms. Escudero had already been well known among the UNICEF family as Executive Director of the Spanish National Committee. Under her management between 2007 and 2013, the Committee was transformed into a highly efficient organization ─ increasing its contribution to UNICEF programs in over 150 developing countries and contributing significantly to emergencies such as the Haiti earthquake in 2010.
Ms. Escudero started her professional career, which spans more than two decades, in 1989 at Procter & Gamble Spain, where she was the company's Brand Manager overseeing the marketing teams responsible for the brand repositioning of products.
After a sabbatical year spent traveling around the world with her husband and working as an aid worker in Guatemala, Ms. Escudero joined Oxfam in 1997. In 2000, she became the Director of the Oxfam International Advocacy Office for the European Union. First based in Spain and later in Brussels, she worked on issues such as overseas development aid, external debt, humanitarian law, international agriculture and trade, and climate change.
Escudero holds a Bachelor of Arts in Economics and Business Sciences from ICADE – Universidad Pontificia Comillas in Madrid. She obtained an Erasmus grant to specialize in marketing at ESSEC Business School in Paris.